Roald Dahl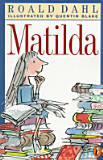 Back to Biographies

Roald Dahl is one of the most popular authors of childrens books in the world. Some of his more famous books include James and the Giant Peach, Charlie and the Chocolate Factory, Fantastic Mr. Fox, George's Marvelous Medicine, and Matilda.

Where did Roald grow up?

Roald Dahl was born on September 13, 1916 in Llandaff, Wales. He had a difficult childhood as his father and older sister died when he was three. His mother raised him as well as three sisters and two step-sisters. He liked to read adventure stories as a kid. His mom would tell him all sorts of fantasy stories, which he loved.

Roald didn't like school much, so when he turned 18 he decided not to go to university. Then WWII started when he was 23 and he joined the Royal Air Force.

How did Roald Dahl get into writing?

When Roald was living in Washington, he was asked to describe his war experiences to author C.S. Forester so he could write them up for the Saturday Evening Post. Roald wrote them down and the writing was so good Forester submitted it without changes.

He started writing stories for kids after he had children and began making up stories for them. James and the Giant Peach was his first child book and it was a great success.

Roald Dahl and the movies

A number of Roald Dahl books were successfully adapted into major motion pictures. These include James and the Giant Peach, Charlie and the Chocolate Factory, Fantastic Mr. Fox, and Matilda.

Roald also wrote screenplays himself. He adapted two Ian Fleming novels to the movies; You Only Live Twice, a James Bond movie, and Chitty Chitty Bang Bang, a kid's movie starring Dick Van Dyke.

List of Roald Dahl children's books
The Gremlins (1943)
James and the Giant Peach (1961)
Charlie and the Chocolate Factory (1964)
The Magic Finger (1966)
Fantastic Mr Fox (1970)
Charlie and the Great Glass Elevator (1972)
Danny, the Champion of the World (1975)
The Enormous Crocodile (1978)
The Twits (1980)
George's Marvellous Medicine (1981)
The BFG (1982)
The Witches (1983)
The Giraffe and the Pelly and Me (1985)
Matilda (1988)
Esio Trot (1989)
The Vicar of Nibbleswicke (1990)
The Minpins (1991)
Fun facts about Roald Dahl
Dahl wrote two autobiographies. The first was called Boy and covered his childhood up to the age of 20. The second was Going Solo where he talks about his first jobs and his experiences as a fighter pilot in WWII.
Roald was married to Hollywood actress Patricia Neal.
He kept a diary as a child and hid it up at the top of a tree so his sisters couldn't get to it.
He was 6 feet 6 inches tall!
His favorite color was yellow and his favorite food was caviar.


Back to Biographies

Other Kids Books author biographies: