Donald J. Sobol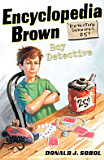 Back to Biographies

Donald J. Sobal is an author of children's books mostly known for the Encyclopedia Brown series of kid's mysteries.

Where did Donald J. Sobol Grow up?

Donald was born on October 4, 1924 in New York, New York. He grew up and went to school there. His dream was to become a professional baseball player. After graduating from school he joined the Army to fight in WWII. Once back from the war he went to Oberlin College where he decided he wanted to become a writer. From there he went to work for the New York Sun newspaper; first as a copy boy and later as a writer.

About Encyclopedia Brown

Sobol wrote the first Encyclopedia Brown book in 1963. The main character is ten year old Leroy "Encyclopedia" Brown. In each book Brown solves 10 mysteries, one per chapter. He gets help from his brave friend Sally Kimball and occasionally works with his dad, the local police chief. Encyclopedia is smart and clever and solves many cases for the people of Idaville. He helps kids solve mysteries for 25 cents a case.

Although this is a series, each book stands on its own and can be read without reading the previous books.

1) Encyclopedia Brown, Boy Detective (1963)
2) Encyclopedia Brown Strikes Again (1965)
3) Encyclopedia Brown Finds the Clues (1966)
4) Encyclopedia Brown Gets His Man (1967)
5) Encyclopedia Brown Solves Them All (1968)
6) Encyclopedia Brown Keeps the Peace (1969)
7) Encyclopedia Brown Saves the Day (1970)
8) Encyclopedia Brown Tracks Them Down (1971)
9) Encyclopedia Brown Shows the Way (1972)
10) Encyclopedia Brown Takes the Case (1973)
11) Encyclopedia Brown Lends a Hand (1974)
12) Encyclopedia Brown and the Case of the Dead Eagles (1975)
13) Encyclopedia Brown and the Case of the Midnight Visitor (1977)
14) Encyclopedia Brown Carries On (1980)
15) Encyclopedia Brown Sets the Pace (1981)
15½) Encyclopedia Brown Takes the Cake (1982)
16) Encyclopedia Brown and the Case of the Mysterious Handprints (1985)
17) Encyclopedia Brown and the Case of the Treasure Hunt (1988)
18) Encyclopedia Brown and the Case of the Disgusting Sneakers (1990)
19) Encyclopedia Brown and the Case of the Two Spies (1995)
20) Encyclopedia Brown and the Case of Pablo's Nose (1996)
21) Encyclopedia Brown and the Case of the Sleeping Dog (1998)
22) Encyclopedia Brown and the Case of the Slippery Salamander (2000)
23) Encyclopedia Brown and the Case of the Jumping Frogs (2003)
24) Encyclopedia Brown Cracks the Case (2007)
25) Encyclopedia Brown, Super Sleuth (2009)
26) Encyclopedia Brown and the Case of the Secret UFOs (2010)

Fun Facts about Donald J. Sobol
He wrote many other books including the Two-Minute Mysteries series.
He had four kids of his own.
Some of Sobol's first books were historical fiction books for kids. He also wrote many non-fiction books.
Encyclopedia Brown had its own series on HBO in 1989.
A group of second graders in Philadelphia found an error in one of Sobol's Encyclopedia Brown books. He corrected it in later editions.

Back to Biographies

Other Kids Books author biographies: