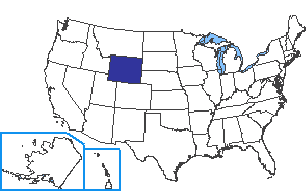 Capital: Cheyenne

Population: 577,737 (Source: 2012 U.S. Census)

Major Cities: Cheyenne, Casper, Laramie, Gillette, Rock Springs

Borders: Nebraska, Colorado, Utah, Idaho, Montana, South Dakota

Gross Domestic Product (GDP): $38,422 million (2012 U.S. Department of Commerce)

Key Industries:
Mining including coal, natural gas, crude oil, and diamonds
Agriculture including cattle, sugar beets, hay, and grains
Tourism from the national parks including Grand Teton National Park, Yellowstone National Park, and Devils Tower

How Wyoming got its name: The name Wyoming comes from an Algonquian Indian word which means great prairie or large plains.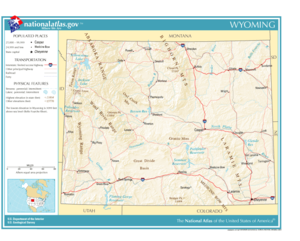 Click on map for larger view
Wyoming State Symbols
State Nickname: Equality State

State Slogan: Like No Place on Earth

State Motto: Equal rights (1955)

State flower: Indian Paintbrush

State bird: Western Meadowlark

State fish: Cutthroat trout

State tree: Plains Cottonwood

State mammal: Buffalo

State foods: Pinto Beans


Becoming a State
Date admitted: Thursday, July 10, 1890

Number admitted: 44

Prior Name: Wyoming Territory

Postal Abbreviation: WY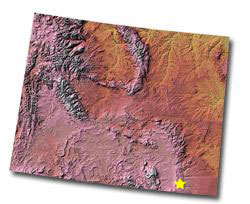 The Geography of Wyoming
Total Size: 97,100 sq. miles (source: 2003 Census)

Geographical Low Point: Belle Fourche River at 3,099 feet, located in the county/subdivision of Crook (source: U.S. Geological Survey)

Geographical High Point: Gannett Peak at 13,804 feet, located in the county/subdivision of Fremont (source: U.S. Geological Survey)

Central Point: Located in Fremont County approx. 58 miles east-northeast of Lander (source: U.S. Geological Survey)

Counties: 23 (source: National Association of Counties)

Bodies of Water: Yellowstone Lake, Boysen Reservoir, Glendo Reservoir, Green River, Bighorn River, N. Platte River, and Snake River


Famous People
Eliza Stewart Boyd - First woman to serve on a jury in the United States
Dick Cheney - Vice President of the United States was raised in Casper
Buffalo Bill Cody - Founded Cody, Wyoming
Harrison Ford - Actor who lives in Jackson Hole, Wyoming
Patricia McLachlan - Children's book author
Jackson Pollock - Artist
Nellie Tayloe Ross - The 14th governor of Wyoming and the first woman governor of a U.S. state.
Alan Simpson - U.S. Senator
Fun Facts
The fewest people of any US state live in Wyoming.
Wyoming is home to Yellowstone National Park. The first of the US national parks.
The first National Monument, Devil's Tower, and the first National Forest, Shoshone National Forest are in Wyoming.
Wyoming is home to some of the largest traveling sand dunes in the world.
The name Wyoming comes from an Algonquian word meaning 'on the great plain'.
It is often called the Cowboy State. The world's largest outdoor rodeo is held in the state each year.
It is called the Equality State because it was the first state to grant women the right to vote.
The world's tallest active geyser is Steamboat Geyser in Yellowstone National Park.
Professional Sports Teams
Wyoming has no major professional sports teams.

Geography >> US States>> Wyoming History

For state symbols, flag, maps, geography, and fun facts: