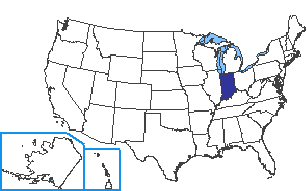 Capital: Indianapolis

Population: 6,691,878 (Source: 2012 U.S. Census)

Major Cities: Indianapolis, Fort Wayne, Evansville, South Bend, Carmel

Borders: Ohio, Kentucky, Illinois, Michigan

Gross Domestic Product (GDP): $298,625 million (2012 U.S. Department of Commerce)

Key Industries:
Agriculture including corn, grain, soybeans, dairy products, and melons
Steel, pharmaceuticals, medical devices, automobiles, chemical products, and machinery

How Indiana got its name: The name Indiana refers to the local Native Americans and means land of the Indians.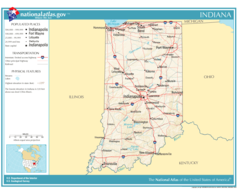 Click on map for larger view
Indiana State Symbols
State Nickname: Crossroads of America

State Slogan: Restart Your Engines, (formerly) Enjoy Indiana

State Motto: The Hoosier State, The Crossroads of America

State flower: Peony

State bird: Cardinal

State fish: none

State tree: The Tulip Tree

State mammal: (NA)

State foods: Pork


Becoming a State
Date admitted: Wednesday, December 11, 1816

Number admitted: 19

Prior Name: Indiana Territory

Postal Abbreviation: IN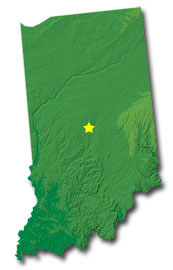 The Geography of Indiana
Total Size: 35,867 sq. miles (source: 2003 Census)

Geographical Low Point: Ohio River at 320 feet, located in the county/subdivision of Posey (source: U.S. Geological Survey)

Geographical High Point: Hoosier Hill at 1,257 feet, located in the county/subdivision of Wayne (source: U.S. Geological Survey)

Central Point: Located in Boone County approx. 14 miles north-northwest of Indianapolis (source: U.S. Geological Survey)

Counties: 92 (source: National Association of Counties)

Bodies of Water: Lake Michigan, Ohio River, White River, Wabash River, Kankakee River


Famous People
Larry Bird - Basketball player
James Dean - Actor
John Dillinger - Infamous criminal
Gus Grissom - Astronaut
Janet Jackson - Singer
Michael Jackson - Singer and songwriter
David Letterman - Talk show host and comedian
Jane Pauley - News anchor and talk show host
Cole Porter - Songwriter for many Broadway musicals
Dan Quayle - Vice President of the United States
Kurt Vonnegut - Author
Wilbur Wright- Inventor of the airplane
Fun Facts
The Indianapolis 500 Car Race is the biggest sporting event in the world.
Holiday World, in Santa Claus, Indiana, is said to be the world's first theme park.
Indiana makes more popcorn than any other US state.
The Indiana State Flag has 19 stars. The 19th star stands for Indiana being the 19th state admitted into the Union.
Indiana has the nickname the Hoosier State, but no one is quite sure where the name Hoosier came from.
Abraham Lincoln grew up in Spencer County, Indiana.
The first professional baseball game was played in Fort Wayne, Indiana in 1871.
Indiana has a city named Santa Claus. Each year hundreds of thousands of letters are mailed there at Christmas time.
There are more miles of interstate per square mile in Indiana than any other state. It really lives up to its nickname the Crossroads of America.
Almost half of the cropland in the state is planted with corn in a typically year.
Professional Sports Teams
Indianapolis Colts - NFL (football)
Indiana Fever - WNBA (basketball)
Indiana Pacers - NBA (basketball)


Geography >> US States>> Indiana History

For state symbols, flag, maps, geography, and fun facts: