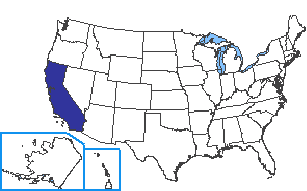 Capital: Sacramento

Population: 39,865,590 (Source: 2012 U.S. Census)

Major Cities: Los Angeles, San Diego, San Jose, San Francisco, Fresno, Sacramento

Borders: Arizona, Nevada, Oregon, Mexico, Pacific Ocean

Gross Domestic Product (GDP): $2,003,479 million (2012 U.S. Department of Commerce)

Key Industries:
Agriculture including dairy products, almonds, grapes, tomatoes, avocados, and broccoli
Computers, electronics, food processing, paper, mining, movie production, and tourism

How California got its name: California was named by Spanish explorers who thought they had discovered an island. The name comes from the Spanish story of Queen Califia who ruled a mythical island.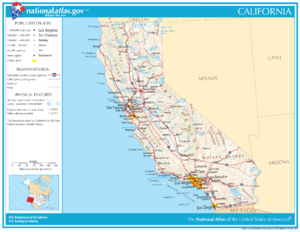 Click on map for larger view
California State Symbols
State Nickname: Golden State

State Slogan: Find Yourself Here

State Motto: Eureka (I have found it)

State flower: California Poppy

State bird: California Quail

State fish: Golden trout (fresh water), Garibaldi (salt water)

State tree: California Redwood

State mammal: Grizzly bear, Gray whale

State foods: Wine


Becoming a State
Date admitted: Monday, September 9, 1850

Number admitted: 31

Prior Name: Mexican Cession, Alta California

Postal Abbreviation: CA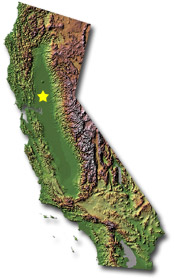 The Geography of California
Total Size: 155,959 sq. miles (source: 2003 Census)

Geographical Low Point: Death Valley at -282 feet, located in the county/subdivision of Inyo (source: U.S. Geological Survey)

Geographical High Point: Mt. Whitney at 14,494 feet, located in the county/subdivision of Inyo-Tulare (source: U.S. Geological Survey)

Central Point: Located in Madera County approx. 38 miles east of Madera (source: U.S. Geological Survey)

Counties: 58 (source: National Association of Counties)

Bodies of Water: Salton Sea, Lake Tahoe, Goose Lake, Mono Lake, Lake Shasta, Sacramento River, San Joaquin River, Colorado River, Pit River, Feather River, San Francisco Bay, Pacific Ocean


Famous People
Tom Brady - Professional football player
Leonardo Dicaprio - Actor
Joe Dimaggio - Professional baseball player
Snoop Dogg - Rapper, Actor
Clint Eastwood - Actor
Robert Frost - Poet
Jeff Gordon - Race car driver
Tom Hanks - Actor
Tony Hawk - Professional skateboarder
Steve Jobs - Founder of Apple
Bruce Lee - Actor, Martial arts expert
Marilyn Monroe - Actress
Richard Nixon - The 37th President of the United States
George Patton - WWII general
Katy Perry - Singer
Ronald Reagan - The 40th President of the United States was governor of California.
Sally Ride - Astronaut
Lemony Snicket - Author
Shirley Temple - Child actress
Shaun White - Professional snowboarder
Tiger Woods - Professional golfer
Fun Facts
California is home to the highest point (Mt. Whitney) and the lowest point (Death Valley) in the continental United States.
California is home to many tourist attractions including Disneyland, the San Diego Zoo, Lego Land, and Yosemite National Park.
You can drive through a giant Redwood tree in California's Kings Canyon.
California is home to Silicon Valley, the home to many of the top US technology companies.
The annual arm wrestling championship is held in Petaluma in October.
More than half of all the nation's vegetables, nuts, and fruits are grown in the state of California.
San Bernardino County is the largest county in the entire United States. It covers almost 3 million acres!
The redwood tree can grow to well over 300 feet tall.
The Gold Rush started in 1848 when James Marshall discovered gold at Sutter's Mill.
The first McDonald's restaurant was opened in San Bernardino, California in 1940.
Professional Sports Teams
MLB (baseball) - Dodgers, Angels, Athletics, Padres, Giants
NFL (football) - Raiders, Chargers, 49ers
NBA (basketball) - Warriors, Clippers, Lakers, Kings
WNBA (basketball) - Sparks
NHL (hockey) - Ducks, Kings, Sharks
MLS (Soccer) - Galaxy, Earthquakes, Chivas USA


Geography >> US States>> California History

For state symbols, flag, maps, geography, and fun facts: