Sally Ride
Biography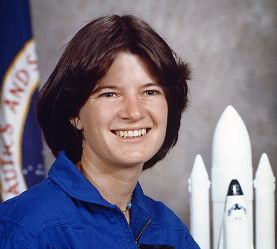 Sally Ride
Source: NASA
Occupation: Astronaut
Born: May 26, 1951 in Encino, California
Died: July 23, 2012 in La Jolla, California
Best known for: First American woman in space
Biography:

Where did Sally Ride grow up?

Sally Kristen Ride was born on May 26, 1951 in Encino, California. Her father, Dale, was a political science professor and her mother volunteered as a counselor at a prison for women. She had one sibling, a sister named Karen.

Growing up Sally was a bright student who loved science and math. She also was an athlete and enjoyed playing tennis. She became one of the top ranked tennis players in the country.

Tennis and College

When Sally first graduated high school, she thought she might want to become a professional tennis player. However, after practicing all day, every day, for months, she realized a life of playing tennis wasn't for her. She enrolled at Stanford University in California.

Sally did well at Stanford. She first earned bachelor's degrees in physics and English. Then she earned a masters and a Ph.D. in physics, doing research in astrophysics.

Becoming an Astronaut

In 1977 Sally responded to a newspaper ad that NASA was looking for astronauts. Over 8,000 people applied, but only 25 people were hired. Sally was one of them. Sally went to the Johnson Space Center in Houston, Texas to train to become an astronaut. She had to go through all sorts of physical tests including weightlessness training, parachute jumping, and water training such as scuba and treading water in a heavy flight suit. She also had to become an expert in space travel and all the controls within the Space Shuttle.

Sally's first assignments didn't involve going into outer space. She served as capsule communicator on the ground control team for the second and third Space Shuttle flights. She also worked on the development of the Space Shuttle's robotic arm that is used to deploy satellites.

First Woman in Space

In 1979 Sally became qualified to be an astronaut on the Space Shuttle. She was selected to be on the STS-7 mission aboard the Space Shuttle Challenger. On June 18, 1983 Dr. Sally Ride made history as the first American woman in space. She worked as the mission specialist. The other members of the crew were the commander, Captain Robert L. Crippen, the pilot, Captain Frederick H. Hauck, and two other mission specialists, Colonel John M. Fabian and Dr. Norman E. Thagard. The flight lasted 147 hours and set down successfully. Sally said it was the most fun she'd ever had.

Sally went into space again in 1984 on the 13th Space Shuttle flight mission STS 41-G. This time there were seven crew members, the most ever on a shuttle mission. It lasted 197 hours and was Sally's second flight on the Space Shuttle Challenger.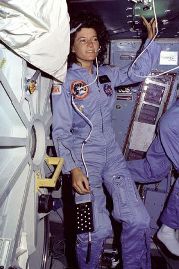 Astronaut Sally Ride in space

Source: NASA


Both missions were a success. They deployed satellites, ran scientific experiments, and helped NASA to continue to learn more about space and space flight.

Sally was scheduled for a third mission when the unthinkable happened. The Space Shuttle Challenger exploded on take-off and all the crew members were killed. Sally's mission was cancelled. She was assigned to President Ronald Reagan's commission to investigate the accident.

Later Work

Sally's days as an astronaut were over, but she continued to work for NASA. She worked on strategic planning for a while and then became director of the Office of Exploration for NASA.

After leaving NASA, Sally worked at Stanford University, the California Space Institute, and even started her own company called Sally Ride Science.

Sally died on July 23, 2012 after fighting a battle with pancreatic cancer.

Interesting Facts about Sally Ride
She was married for a time to fellow NASA astronaut Steven Hawley.
She was inducted into the National Women's Hall of Fame and the Astronaut Hall of Fame.
Sally wrote a number of science books for children including Mission Planet Earth and Exploring our Solar System.
She was the only person to serve on both committees that investigated the Space Shuttle accidents of the Challenger and the Columbia.
There are two elementary schools in the United States named after Sally.
Activities

Take a ten question quiz about this page.


Listen to a recorded reading of this page:


More women leaders:
Back to Biography for Kids