Oprah Winfrey
Biography
Occupation: Talk Show Host, Actress
Born: January 29, 1954 in Kosciusko, Mississippi
Best known for: The Oprah Winfrey Show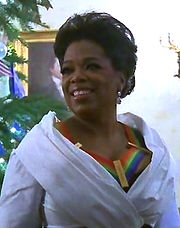 Oprah Winfrey

Source: US federal government


Biography:

Where was Oprah Winfrey born?

Oprah Winfrey was born in Kosciusko, Mississippi on January 29, 1954. Her mother was an unwed teenage girl named Vernita Lee. Her father was a U.S. army private named Vernon Winfrey. Oprah's mother named her after a character in the Bible named "Orpah" from the Book of Ruth. However, her name was misspelled "Oprah" on the birth certificate and she has been called Oprah ever since.

A Hard Life Growing Up

When Oprah was still young, her mother moved to Milwaukee, Wisconsin to find a job. Oprah stayed in Mississippi and lived with her grandmother, Hattie Mae. Life with Hattie Mae was interesting. Young Oprah lived on a farm without running water. She had lots of difficult chores including getting water from the well each day and carrying it up to the house. She also learned to read and write by the age of three, mostly from studying the Bible.

When Oprah turned six, she moved to Wisconsin to live with her mom. She moved around a lot growing up. Sometimes she lived with her mother in Wisconsin and sometimes she lived with her father in Nashville, Tennessee. Oprah's mother was very poor and life in Wisconsin was hard. However, Oprah was a bright student, she loved to read, and did well in school. She graduated from East Nashville High School as an honors student in 1971.

A Young Speaker

From the time Oprah was a small child growing up with her grandmother, she was a gifted speaker. She often spoke at church, at women's groups, and at school. When she was in high school she won a speech contest and earned a full scholarship to college. She used the scholarship to attend Tennessee State University.

Getting on the Radio

In 1971, Oprah was encouraged to enter the Miss Teen Fire Prevention pageant by a local radio disc jockey. Much to her surprise, she won first place. In the interview, Oprah said that her goal was to become a broadcast journalist. After the pageant she was offered a job as a news reader on the local radio. She loved the job and knew then that her future was going to be in radio and TV.

A Nashville News Anchor

While still attending college, Oprah got a call from the CBS news station in Nashville. They wanted her to be their news anchor. She couldn't believe it. At first she thought she should turn the job down and concentrate on school, but then she realized what a great opportunity it was. She took the job and became the first female African-American news anchor in Nashville history. She was only nineteen at the time.

Becoming a TV Talk Show Host

In 1976, Oprah moved to a TV station in Baltimore, Maryland. At first she worked as a news anchor, but things weren't working out very well. She was moved to a TV talk show called People are Talking. The first day on the job, Oprah knew she had found her calling. She said it was "like breathing." Soon her show became very popular. She was then recruited to host a morning TV show in Chicago called A.M. Chicago. When she arrived in Chicago, the show was in last place in the ratings. The first place show was the popular Phil Donahue Show. However, in just a few months, A.M. Chicago had taken over first place. A few years later, in 1986, the show was renamed The Oprah Winfrey Show and was shown all over the country.

Fame

With the launch of The Oprah Winfrey Show, Oprah became one of the most famous people in the country. Over 10 million people watched her show every day. Oprah also made a lot of money. Her show made $125 million the first year and Oprah's income was $30 million. She had come a long way from her grandma's farm without running water.

Acting

Even though Oprah's talk show was a huge success, she had always wanted to work as an actress in the movies. She got her first major role in the movie The Color Purple in 1985. It turned out that Oprah had a real talent for acting. She did such a great job that she was nominated for an Academy Award for Best Supporting Actress. Over the years, Oprah has acted in other films such as The Women of Brewster Place (1989), Beloved (1998), The Princess and the Frog (2009), and The Butler (2013).

Other Activities

Besides her national talk show and acting, Oprah is famous for other activities. She co-founded the cable TV media company Oxygen Media and started a magazine called O: The Oprah Magazine. She even founded her own TV network called the Oprah Winfrey Network (OWN) in 2009. Oprah also started a charity called the Angel Network.

Interesting Facts about Oprah Winfrey
Oprah was crowned Miss Black Tennessee in 1972. She stopped doing beauty pageants when her career took off.
She started her own production company called Harpo Productions. "Harpo" is Oprah spelled backwards.
Oprah is also famous for her weight loss and weight gain. She has lost weight several times and then gained it back.
As of 2013, her estimated net worth was $2.8 billion.
The Oprah Winfrey Show aired for 25 years. Its final episode was on May 24, 2011.
She was named the most influential woman of her generation by Life magazine.
She has a fear of chewing gum that she has had since she was a little girl.
Activities

Take a ten question quiz about this page.


Listen to a recorded reading of this page:


More Entrepreneurs
Works Cited
Biography