Biography
Hillary Clinton

Biography>> Women Leaders
Occupation: Politician
Born: October 26, 1947 in Chicago, Illinois
Best known for: Presidential candidate and wife of President Bill Clinton
Biography:

Hillary Clinton is one of the most prominent American politicians of the 2000s. In 2000, she became the only former First Lady to hold an elected office when she was elected Senator of New York. In 2009, she was appointed the U.S. Secretary of State by President Barack Obama. At the time of the writing of this article, she is currently running for President of the United States in the 2016 presidential election.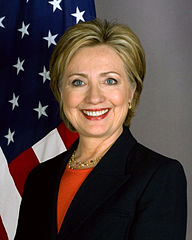 Hillary Clinton

Source: US Department of State

Where did Hillary Clinton grow up?

Hillary Diane Rodham was born on October 26, 1947 in Chicago, Illinois. She grew up in the suburbs of Chicago with her two younger brothers (Hugh and Tony). Hillary's dad, Hugh, ran a successful drapery business and her mother, Dorothy, was a homemaker.

Hillary was an active student in her high school. She participated in sports and was class vice president her junior year. She got good grades and finished in the top 5% of her class. She also became involved in politics and worked on the presidential campaign for Republican Barry Goldwater.

College and Law School

After high school, Hillary attended Wellesley College where she graduated in 1969 with a degree in political science. Hillary became more involved in politics while at Wellesley and decided to attend Yale Law school. During her time in college, Hillary changed her politics from Republican to Democrat and began working on campaigns for the Democratic Party. She graduated from Yale with honors in 1973.

Marriage to Bill Clinton

It was at Yale where Hillary met Bill Clinton. They dated while attending school and for a few more years after graduating. On October 11, 1975 they were married. Hillary and Bill soon became the most powerful political couple in Arkansas. Bill was elected governor of Arkansas in 1978. For the next several years, Hillary served as the First Lady of Arkansas. She also worked on various political campaigns (including one for Jimmy Carter) and as a lawyer in the Rose Law Firm.

First Lady

In 1992, Bill Clinton was elected President of the United States. While serving as First Lady, Hillary was very involved with White House policies and worked closely with her husband on several issues. She was appointed as the head of the President's Task Force on Health Care Reform. The project, however, failed and her popularity slumped.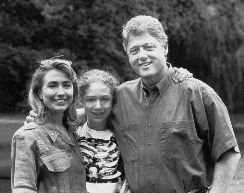 The Clinton Family (Hillary, Chelsea, and Bill)

Source: US Office of the President


Senator

After Bill left office in 2000, Hillary decided to run for the Senate seat in New York. She won easily and became the only former First Lady to win an elected office. She ran again in 2006 and won. While serving as senator she worked on several committees including the Committee on Budget, the Committee on Armed Services, and the Committee on Environment and Public Works. She voted in favor of the war in Afghanistan, the Iraq War, and the Patriot Act. She also voted against tax cuts and for the bailout of the banks in 2008.

Secretary of State

Hillary ran for president in 2008, but lost the Democratic nomination to future President Barack Obama. She then served as the Secretary of State for Obama from 2009 to 2013. During her time as Secretary of State, she visited 112 countries, the most of any Secretary of State in history.

Running for President

At the time of the writing of this article, Hillary is a leading candidate for the 2016 presidential election.

Scandals

Hillary has been involved in several political scandals throughout her career. This article will not get into the controversial political details other than to list them so students and readers can do further research on their own. Some of the major scandals include Benghazi, the Clinton private email scandal, and Whitewater.

Interesting Facts about Hillary Clinton
During high school, she wrote a letter to NASA asking how she could become an astronaut. She got a letter back saying they weren't accepting women into the program.
Hillary and Bill Clinton have a daughter named Chelsea.
She was the only First Lady to have an office with the president's senior staff in the West Wing of the White House.
She won a Grammy Award for the audio version of her book It Takes a Village.
Clinton makes over $200,000 for giving a speech. She often speaks to major corporations and Wall Street firms. In 2014/2015 she reportedly made around $11 million giving speeches.
Hillary and Bill Clinton are very rich. Money Nation estimated their net worth to be around $111 million in 2015.
Activities

Take a ten question quiz about this page.


Listen to a recorded reading of this page:




More women leaders:


Biography>> Women Leaders