Biography
Queen Elizabeth II
Early Life, Princess, and World War II
Biography
Occupation: Queen of the United Kingdom
Reign: February 6, 1952 – present
Born: April 21, 1926 in Mayfair, London, United Kingdom
Best known for: The longest-reigning British monarch
Biography:

Queen Elizabeth II is the current queen of the United Kingdom. She has been queen since February 6, 1952, making her the longest-reigning British monarch in history. While the political landscape both in the United Kingdom and the world has undergone drastic changes during her reign, Elizabeth II has remained a popular monarch and is much beloved throughout the world.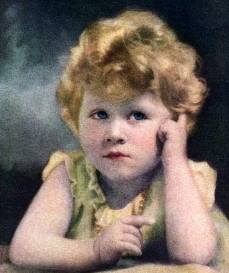 Princess Lilibet

Source: Time Magazine Cover, April 29, 1929



Growing Up a Princess

Elizabeth Alexandra Mary was born on April 21, 1926 at 17 Bruton Street in London, England. At the time, her grandfather King George V was King of the United Kingdom and her father was the Duke of York. This made young Elizabeth a princess. Growing up, Elizabeth went by the nickname "Lilibet."

As a princess of the United Kingdom, Elizabeth lived a pampered life. She was educated by private tutors at home and enjoyed riding horses at her family's country home in Windsor Great Park. Her younger sister, Princess Margaret, was born in 1930 and her family was close. However, Elizabeth was not a spoiled child. Many adults who came into contact with her commented on how mature and grounded she was even at a young age.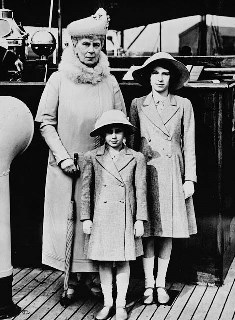 Queen Mary with her granddaughters, Princess Elizabeth and Margaret

Source: Library and Archives Canada



Heir to the Throne

Everything changed for Elizabeth in 1936. First, her beloved grandfather, King George V, died and her uncle became King Edward VIII. Elizabeth was now second in line to the throne after her father. However, it wasn't really expected that she would be queen. Her uncle Edward would likely have children and one of them would assume the crown. Then, the truly unexpected happened. King Edward abdicated the crown and her father became king. Now Elizabeth was next in line to the throne.

As the future queen, life for ten-year-old Elizabeth took a dramatic turn. She now had to prepare to lead the country and her every move was chronicled and scrutinized by the public and the press. Young Elizabeth dealt with the pressure expertly. She had grown up with a strong sense of duty and had a strong bond with her parents to fall back on when needed.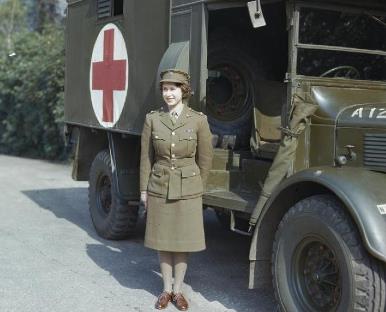 Princess Elizabeth in the Auxiliary Territorial Service, April 1945

Source: Ministry of Information

World War II, Marriage, and Children

The years between becoming the heir apparent to the throne and becoming Queen were marked by three major events: World War II, her marriage, and the birth of her first two children.

When World War II began in 1939, it was suggested that the Queen, Elizabeth's mother, flee England and go to Canada. However, her mother refused to leave the king. Elizabeth, along with her sister and mother, did leave the city of London, however. They spent much of the war at Windsor Castle. Elizabeth gave her first radio broadcast in 1940 on the BBC's Children's Hour. She also took an honorary position in the Auxiliary Territorial Service (the women's branch of the British Army) where she trained as a mechanic and driver.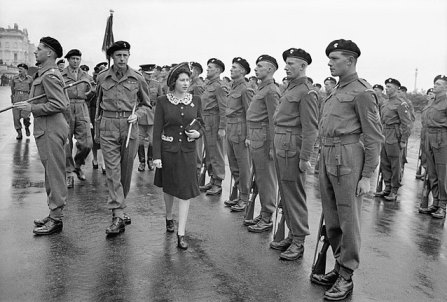 Allied Preparations For D-day

Author: War Office official photographer, Malindine E G



Elizabeth was eight years old when she first met her future husband Prince Phillip of Greece and Denmark. She was only thirteen when she proclaimed she had fallen in love with him. The two began to exchange letters and later began to court in secret as they didn't want the press to be hounding them. They announced their engagement in July of 1947 and were married in Westminster Abby on November 20, 1947. Their wedding was an international event with millions of people listening to the BBC broadcast around the world. The young married couple had their first child, Prince Charles, around a year later. They would go on to have a total of four children: Charles, Anne, Andrew, and Edward.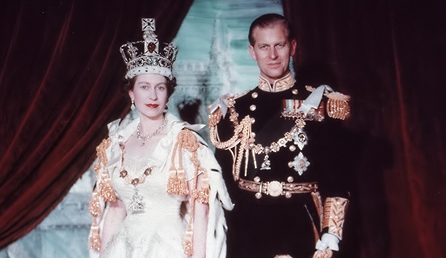 Queen Elizabeth II and Prince Philip, Duke of Edinburgh
Author: Cecil Beaton
Queen Elizabeth II Biography Contents
More women leaders:
Works Cited
Back to Biography for Kids