Biography
Queen Elizabeth II
Major Events in Reign and Interesting Facts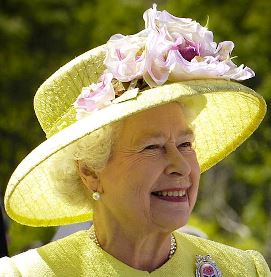 Queen Elizabeth II

Source: NASA

Major Events in Reign

A timeline of the major events during Queen Elizabeth's reign as Queen of the United Kingdom:

1952 - Her father King George VI dies and Elizabeth becomes Queen.

1953 - The coronation of Queen Elizabeth II.

1956 - The United Kingdom and France invade Egypt in an attempt to regain control of the Suez Canal. The result is the Suez Crisis.

1957 - With the help of her advisors, Elizabeth selects Harold Macmillan as Prime Minister of the United Kingdom.

1960 - Her sister, Princess Margaret, marries Tony Armstrong-Jones. Elizabeth gives birth to her third child, Prince Andrew.

1964 - Elizabeth gives birth to her fourth child, Prince Edward.

1969 - Her son Charles is announced as the official heir to the throne and is named Prince of Wales.

1976 - She opened the 1976 Summer Olympics in Montreal, Canada.

1977 - Elizabeth celebrates her Silver Jubilee on her 25th anniversary as Queen.

1979 - Margaret Thatcher becomes the first female Prime Minister of the United Kingdom.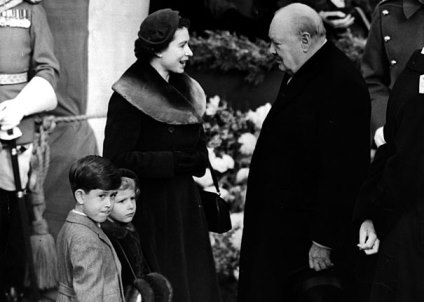 Prime Minister Winston Churchill and Queen Elizabeth II, 1953

Source: United Kingdom Government



1981 - Prince Charles marries Lady Diana in one of the most popular weddings in history.

1982 - Queen Elizabeth II receives Pope John Paul II on his visit to England. It is the first time a reigning pope visited the United Kingdom.

1991- She addresses a joint meeting of the United States Congress following the coalition victory in the Gulf War.

1992 - This was a year of sadness for the Queen in her personal life. She called this year her "annus horribulis", or "horrible year." During 1992, Prince Charles formally separated from his wife Lady Diana, Princess Anne divorced her husband, and Prince Andrew separated from his wife. To add insult to injury, Windsor Castle caught fire and suffered extensive damage.

1997 - Princess Diana is killed in a car crash. Queen Elizabeth II gives a speech the day before Diana's funeral.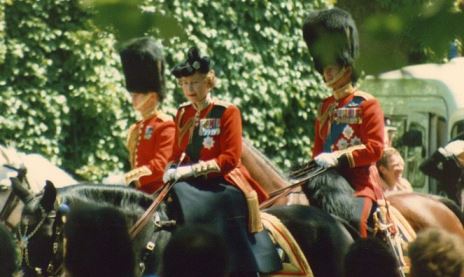 The queen riding to trooping the colour, 1986

Author: Sandpiper via Wikimedia Commons



2002 - The Queen's mother passes at the age of 101 and her sister, Princess Margaret dies at the age of 71. The same year Elizabeth II celebrates her Golden Jubilee marking her 50th year as Queen of the United Kingdom.

2011 - Her grandson Prince William, second in line to the throne, gets married to Catherine Middleton.

2012 - Elizabeth celebrates her Diamond Jubilee for 60 years as monarch.

2015 - Queen Elizabeth II becomes the longest reigning British monarch surpassing her great-great-grandmother Queen Victoria.

2022 - On September 8, 2022 Queen Elizabeth dies. Her son Charles would succeed her as King Charles III.

Interesting Facts about Queen Elizabeth II
She was (as of 2019) Commander-in-Chief of the British Armed Forces and the Canadian Armed Forces.>



Besides being Queen of the United Kingdom, she was also queen of many other countries: Canada, Jamaica, New Zealand, Australia, the Bahamas, and Barbados; just to name a few.



One of her favorite hobbies was photography.



In 2017, she celebrated her 65th year as Queen with a Sapphire Jubilee. She was the first British monarch to have a Sapphire Jubilee.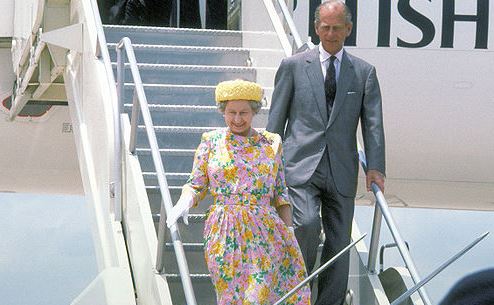 Queen Elizabeth II and Prince Philip disembark, 1991
Author: SRA Jerry Wilson
Her nickname "Lilibet" comes from her own pronunciation of "Elizabeth" when she was a child.



She was educated by tutors at home. In order for her to socialize with other girls her age she joined the Girl Guides (like the girl scouts). Her patrol leader, Patricia Mountbatten, was the first cousin of Elizabeth's future husband.



She spoke fluid French.



She was allowed to drive in the United Kingdom without a license.



Elizabeth and her sister Margaret joined the massive crowds in the streets celebrating the end of World War II.



When Tony Blair became the British Prime Minister in 1997, he became the first prime minister born during Queen Elizabeth II's reign.



She loved dogs and owned over 30 Welsh Corgis during her reign.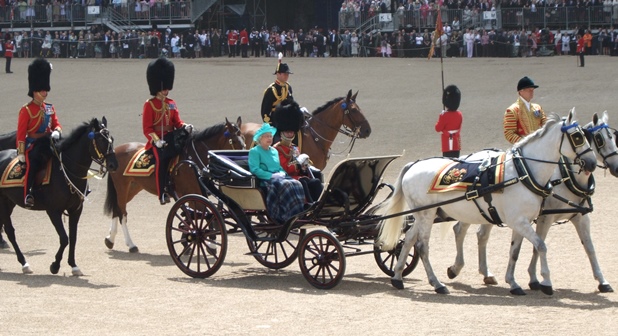 The queen riding a carriage, 2008
Author: Ibagli via Wikimedia Commons
Bibliography:
Her Majesty: Queen Elizabeth II and Her Court by Robert Hardman. 2012.
Queen and Country: The Fifty-year Reign of Elizabeth II by William Shawcross. 2002.
The Queen: A Biography of Elizabeth II by Ben Pimlott. 1997.
Her Majesty the Queen. https://www.royal.uk/her-majesty-the-queen. 2017.
Elizabeth the Queen: The Life of a Modern Monarch by Sally Bedell Smith. 2012.
Queen Elizabeth II Biography Contents
More women leaders:
Works Cited
Back to Biography for Kids