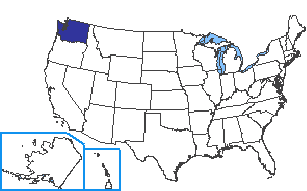 Capital: Olympia

Population: 7,535,591 (Source: 2012 U.S. Census)

Major Cities: Seattle, Spokane, Tacoma, Vancouver, Bellevue, Kent

Borders: Oregon, Idaho, Canada, Pacific Ocean

Gross Domestic Product (GDP): $375,730 million (2012 U.S. Department of Commerce)

Key Industries:
Agriculture including apples, berries, cattle, fishing, poultry, and wheat
Timber and wood products, paper products, computer software, aircraft, and tourism

How Washington got its name: The state is named after the first president of the United States, George Washington.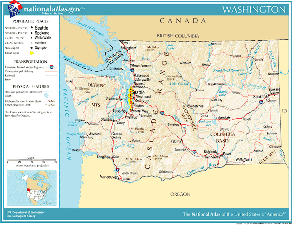 Click on map for larger view
Washington State Symbols
State Nickname: Evergreen State

State Slogan: SayWA!; (formerly) Experience Washington; The Evergreen State; also on its license plate as Evergreen State

State Motto: Al-Ki (Indian word meaning bye-and-bye)

State flower: Rhododendron

State bird: Willow Goldfinch aka American Goldfinch

State fish: Steelhead Trout

State tree: Western Hemlock

State mammal: Orca (Killer Whale)

State foods: Blueberry Muffin


Becoming a State
Date admitted: Monday, November 11, 1889

Number admitted: 42

Prior Name: Washington Territory

Postal Abbreviation: WA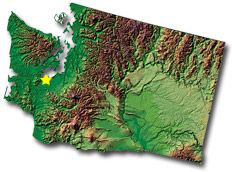 The Geography of Washington
Total Size: 66,544 sq. miles (source: 2003 Census)

Geographical Low Point: Pacific Ocean at Sea Level (source: U.S. Geological Survey)

Geographical High Point: Mt. Rainier at 14,411 feet, located in the county/subdivision of Pierce (source:

Central Point: Located in Chelan County approx. 10 miles west-southwest of Wenatchee (source: U.S. Geological Survey)

Counties: 39

Bodies of Water: Pacific Ocean, Puget Sound, Strait of Juan de Fuca, Columbia River, Snake River, Skagit River, Lake Chelan, Lake Washington


Famous People
Bob Barker - Game show host
Kurt Cobain - Singer and songwriter
Bing Crosby - Singer and actor
Bill Gates - Co-founder of Microsoft
John Elway - Professional football player
Richard Gordon - Astronaut
Alex Haley - Author
Jimi Hendrix - Rock star and guitarist
Steve Largent - Professional football player
Gary Larson - Cartoonist famous for "The Far side"
Tim Lincecum - Professional baseball player
Carl Sagan - Astronomer
Hope Solo - Soccer player
Fun Facts
In Everett, Washington is the final assembly plant for Boeing airplanes. It is the biggest building in the world.
Seattle, Washington is home to the world famous Space Needle. It has a rotating restaurant at the top.
It is the only state to be named for a US president. The residents had recommended Columbia, but Congress decided to name the land after George Washington.
Washington is the leading apple producer of the states.
It gets the nickname, the Evergreen State, from its large forests of evergreen trees.
Microsoft corporation is headquartered in Redmond. Bill Gates, the head of Microsoft and the richest man in the US, also lives in this state.
The state insect is the dragonfly.
Aberdeen was once called the 'roughest town west of the Mississippi'.
Mount St. Helens is an active volcano. It had a huge eruption in 1980.
Professional Sports Teams
Seattle Storm - WNBA (basketball)
Seattle Mariners - MLB (baseball)
Seattle Seahawks - NFL (football)
Seattle Sounders - MLS (soccer)


Geography >> US States>> Washington History

For state symbols, flag, maps, geography, and fun facts: