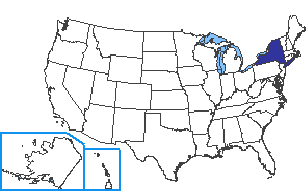 Capital: Albany

Population: 19,542,209 (Source: 2012 U.S. Census)

Major Cities: New York City, Buffalo, Rochester, Yonkers, Syracuse, Albany

Borders: Pennsylvania, New Jersey, Vermont, Massachusetts, Connecticut, Rhode Island (maritime), Canada, Atlantic Ocean

Gross Domestic Product (GDP): $1,205,930 million (2012 U.S. Department of Commerce)

Key Industries:
Agriculture including apples, grapes, wine, milk, and cheese
Finance, communications, clothing and apparel, fashion, computers, electronics, and tourism

How New York got its name: When the English took over the land from the Dutch they named it New York in honor of the Duke of York and the city of York in England.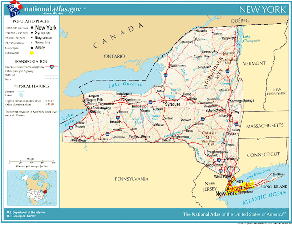 Click on map for larger view
New York State Symbols
State Nickname: Empire State

State Slogan: I Love New York; also its state song, The Empire State (on highway welcome signs)

State Motto: Excelsior (Ever upward)

State flower: Rose

State bird: Bluebird

State fish: Brook trout (fresh water), Striped bass (salt water)

State tree: Sugar Maple

State mammal: Beaver

State foods: Apple Muffin, Apple


Becoming a State
Date admitted: Saturday, July 26, 1788

Number admitted: 11

Prior Name: Province of New York, then sovereign state in Confederation

Postal Abbreviation: NY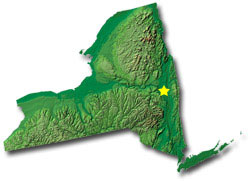 The Geography of New York
Total Size: 47,214 sq. miles (source: 2003 Census)

Geographical Low Point: Atlantic Ocean at Sea Level (source: U.S. Geological Survey)

Geographical High Point: Mt. Marcy at 5,344 feet, located in the county/subdivision of Essex (source: U.S. Geological Survey)

Central Point: Located in Madison County approx. 12 miles south of Oneida and 26 miles southwest of Utica (source: U.S. Geological Survey)

Counties: 58 (source: National Association of Counties)

Bodies of Water: Atlantic Ocean, Lake Ontario, Lake Erie, Lake Champlain, Hudson River


Famous People
Kareem Abdul-Jabbar - Basketball player
Christina Aguilera - Pop singer
Woody Allen - Actor and director
Humphrey Bogart - Actor
Mariah Carey - Singer
Sean 'puffy' Combs - Rapper and producer
Tom Cruise - Actor
Robert de Niro - Actor
Millard Fillmore - The 13th President of the United States
Lou Gehrig - Baseball Player
George Gershwin - Songwriter
Michael Jordan - Basketball player
Matt Lauer - Talk show host
Ralph Lauren - Fashion designer
Jay Leno - Talk show host
Billy the Kid - Notorious wild west criminal
Colin Powell - First African-American Secretary of State
Franklin D. Roosevelt - The 32nd President of the United States
Theodore Roosevelt - The 26th President of the United States
Jonas Salk - Discovered the polio vaccine
Adam Sandler - Comedian and actor
Donald Trump - Business leader
Sojourner Truth - Civil rights activist
Martin Van Buren - The 8th President of the United States
Fun Facts
The headquarters of the United Nations is in New York City.
The New York City Subway is the largest subway system in the world. It has 722 miles of track.
Taxi cabs are yellow because the man who started the Yellow Cab company read that yellow is the easiest color to spot.
The index finger of the Statue of Liberty is 8 feet long.
The state was named by the English in honor of the Duke of York, who later became King James II.
Peter Minuit purchased the island of Manhattan from the natives for around $24.
New York City was the capital of the United States from 1785 to 1790.
One World Trade Center is the tallest building in the U.S. It is 1,776 feet tall--the year America got its independence.
France donated the Statue of Liberty to the US in 1886.
The first pizzeria in the US was opened in New York City in 1895.
The Empire State Building in New York City is 1,453 feet tall. It was named as one of the Seven Wonders of the Modern World.
Professional Sports Teams
Buffalo Bills - NFL (football)
New York Mets - MLB (baseball)
New York Yankees - MLB (baseball)
Buffalo Sabres - NHL (hockey)
New York Rangers - NHL (hockey)
New York Islanders - NHL (hockey)
New York Liberty - WNBA (basketball)
Brooklyn Nets - NBA (basketball)
New York Knicks - NBA (basketball)
Note: the New York Giants and New York Jets play in New Jersey.

Geography >> US States>> New York History

For state symbols, flag, maps, geography, and fun facts: