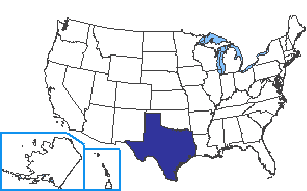 Capital: Austin

Population: 29,206,997 (Source: 2012 U.S. Census)

Major Cities: Houston, San Antonio, Dallas, Austin, Fort Worth, El Paso

Borders: New Mexico, Oklahoma, Arkansas, Louisiana, Mexico, Gulf of Mexico

Gross Domestic Product (GDP): $1,397,369 million (2012 U.S. Department of Commerce)

Key Industries:
Agriculture including cattle, sheep, goats, cotton, grains, and fishing
Oil, natural gas, petroleum products, cement, energy, chemicals, and tourism

How Texas got its name: The name Texas comes from the Caddo Native American word tejas which means friends.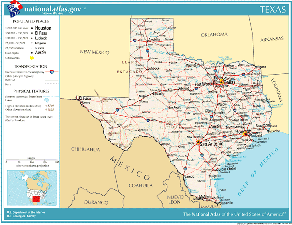 Click on map for larger view
Texas State Symbols
State Nickname: Lone Star State

State Slogan: It's Like a Whole Other Country (this is used only in domestic advertising)

State Motto: Friendship

State flower: Bluebonnet

State bird: Mockingbird

State fish: Guadalupe bass

State tree: Pecan

State mammal: Armadillo, Texas Longhorn, Mexican free-tailed bat

State foods: Chili, Pecan, Jalapeno, Strudel, Tortilla chips and Salsa


Becoming a State
Date admitted: Monday, December 29, 1845

Number admitted: 28

Prior Name: Republic of Texas

Postal Abbreviation: TX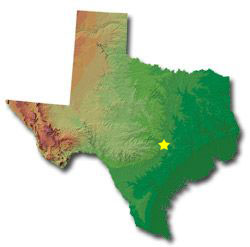 The Geography of Texas
Total Size: 261,797 sq. miles (source: 2003 Census)

Geographical Low Point: Gulf of Mexico at Sea Level (source: U.S. Geological Survey)

Geographical High Point: Guadalupe Peak at 8,749 feet, located in the county/subdivision of Culberson (source: U.S. Geological Survey)

Central Point: Located in McCulloch County approx. 15 miles northeast of Brady (source: U.S. Geological Survey)

Counties: 254 (source: National Association of Counties)

Bodies of Water: Gulf of Mexico, Rio Grande River, Pecos River, Red River, Colorado River, Brazos River, Toledo Bend Reservoir


Famous People
Drew Brees - Professional football player
Kelly Clarkson - Singer and American Idol winner
Dwight D. Eisenhower- The 34th President of the United States and WWII general
Selena Gomez - Actress and singer
Howard Hughes - Businessman and aviator
Lyndon B. Johnson - The 36th President of the United States
Beyonce Knowles - Singer and actress
Tom Landry - Legendary football coach
Steve Martin - Comedian and actor
Sandra Day O'Connor - First woman U.S. Supreme Court Justice
Adrian Peterson - Professional football player
Dan Rather - News Anchor
Kenny Rogers - Country music singer
Nolan Ryan - Professional baseball player
Babe Didrikson Zaharias - Track and field athlete
Fun Facts
The name Texas comes from the word 'tejas' meaning 'friends' or 'allies'.
Austin, Texas is called the 'Live Music Capital of the World'.
The King Ranch in Texas is bigger than the state of Rhode Island.
Bracken cave has the single largest concentration of mammals in the world with a population of over 20 million bats!
The name the Lone Star State comes from the single star on the Texas flag. It symbolized Texas' struggle for independence.
El Paso, Texas is closer to the border of California than it is to Dallas, Texas. That's how big Texas is!
Texas has been a member of six different nations including Spain, Mexico, France, the Republic of Texas, the Confederate States, and the USA.
Dr Pepper was invented in Waco, Tx.
The Dallas-Fort Worth area has a larger population than 39 US States.
Presidents Dwight D. Eisenhower and Lyndon B. Johnson were born in Texas.
Professional Sports Teams
Dallas Cowboys - NFL (football)
Dallas Mavericks - NBA (basketball)
Dallas Wings - WNBA (basketball)
Dallas Stars - NHL (hockey)
FC Dallas - MLS (soccer)
Houston Astros - MLB (baseball)
Houston Dynamo - MLS (soccer)
Houston Rockets - NBA (basketball)
Houston Texans - NFL (football)
San Antonio Spurs - NBA (basketball)
Texas Rangers - MLB (baseball)


Geography >> US States>> Texas History

For state symbols, flag, maps, geography, and fun facts: