Capital: Charlotte Amalie

Population: 104,914 (2018 estimate) (Source: 2012 U.S. Census)

Major Cities: Charlotte Amalie

Borders:

Gross Domestic Product (GDP):

Key Industries:


How Virgin Islands got its name: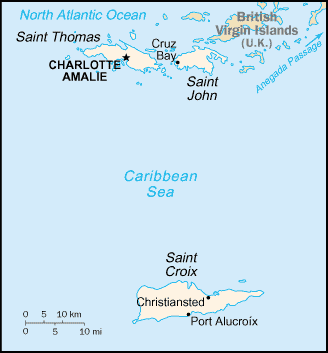 Click on map for larger view
Virgin Islands State Symbols
State Nickname: The American Paradise

State Slogan: none

State Motto: United in Pride and Hope

State flower: Yellow Elder

State bird: Yellow Breast

State fish:

State tree: none

State mammal:

State foods:


Becoming a State
Date admitted: NA

Number admitted: NA

Prior Name: NA

Postal Abbreviation: VI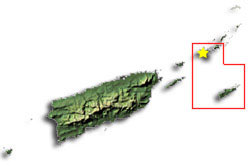 The Geography of Virgin Islands
Total Size: 1,910 sq. miles

Geographical Low Point: Atlantic Ocean at Sea Level (source: U.S. Geological Survey)

Geographical High Point: Crown Mtn. at 1,556 feet, located in the county/subdivision of St. Thomas Island (source: U.S. Geological Survey)

Central Point:

Counties: 2 Districts

Bodies of Water:


Famous People
Fun Facts
The US Virgin Islands is not a state, but is an 'insular area' of the United States. An insular area is like a territory that is an island.
In Denmark, the US Virgin Islands are referred to as The Former Danish West Indian Islands.
The National Anthem is the Virgin Islands March.
Nicknames for the islands are 'Rock City' for St. Thomas, 'Love City' for St. John, and 'Twin City' for St. Croix.
Road traffic on the Virgin Islands is on the left hand side of the road.
Columbus visited the islands in 1493. Over the next 50 years the entire native population had died out.
Sugar cane was an important crop for many years.
The USA purchased the islands from Denmark for $25 million.
The official language is English.
Tourism is the main industry on the islands. Over 2 million people visit them each year.
Professional Sports Teams


Geography >> US States

For state symbols, flag, maps, geography, and fun facts: