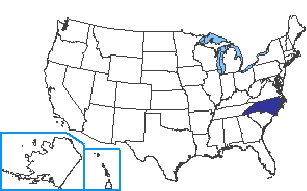 Capital: Raleigh

Population: 10,383,620 (Source: 2012 U.S. Census)

Major Cities: Charlotte, Raleigh, Greensboro, Durham, Winston-Salem, Fayetteville

Borders: Virginia, Tennessee, Georgia, South Carolina, Atlantic Ocean

Gross Domestic Product (GDP): $455,973 million (2012 U.S. Department of Commerce)

Key Industries:
Agriculture including cotton, tobacco, soybeans, grains, hogs, and cattle
Textiles, banking, chemicals, furniture, computers, paper products, and tourism

How North Carolina got its name: The name Carolina is after King Charles, which is Carolus in Latin.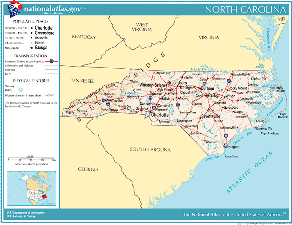 Click on map for larger view
North Carolina State Symbols
State Nickname: Tar Heel State

State Slogan: A Better Place to Be; First in Flight (on its license plate)

State Motto: Esse quam videri (To be rather than to seem)

State flower: American Dogwood

State bird: Cardinal

State fish: Channel Bass (salt water)

State tree: Pine

State mammal: Eastern Gray Squirrel, Plott Hound

State foods: Blueberry, Strawberry, Sweet Potato, Milk, Scuppernong Grape


Becoming a State
Date admitted: November 21, 1789

Number admitted: 12

Prior Name: Province of North Carolina, then sovereign state in Confederation

Postal Abbreviation: NC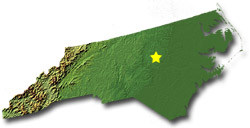 The Geography of North Carolina
Total Size: 48,711 sq. miles (source: 2003 Census)

Geographical Low Point: Atlantic Ocean at Sea Level (source: U.S. Geological Survey)

Geographical High Point: Mt. Mitchell at 6,684 feet, located in the county/subdivision of Yancey(source: U.S. Geological Survey)

Central Point: Located in Chatham County approx. 10 miles northwest of Sanford (source: U.S. Geological Survey)

Counties: 100 (source: National Association of Counties)

Bodies of Water: Atlantic Ocean, Pamlico Sound, Albemarle Sound, Neuse River, Cape Fear River, Yadkin River, Lake Norman, Jordan Lake, Lake Lure


Famous People
Virginia Dare - First child born in America to English parents
Elizabeth Dole - Senator and President of the Red Cross
Dale Earnhardt - Race car driver
Billy Graham - Evangelist
Andy Griffith - Actor
Josh Hamilton - Professional baseball player
Catfish Hunter - Professional baseball player
Andrew Johnson - The 17th President of the United States
Sugar Ray Leonard - Champion boxer
Julianne Moore - Actress
Chris Paul - Professional basketball player
Richard Petty - Race car driver
James Polk- The 11th President of the United States
Hiram Revels - First African-American Senator
Randy Travis - Country singer
Roy Williams - College basketball coach
Fun Facts
The largest home in the United States is the Biltmore Estate in Ashville, North Carolina.
The first successful flight of a mechanically powered airplane was performed by the Wright Brothers in Kitty Hawk, North Carolina on December 17,1903.
The first public university in the United States was the University of North Carolina.
Virginia Dare was the first child born in America in Roanoke, North Carolina in 1587.
The tar heel nickname comes from the state once being a large producer of tar. Legend has it that during a Civil War battle a regiment of soldiers from North Carolina held their ground when other soldiers fled. They said the other soldiers needed some Carolina tar on their heels so they wouldn't run.
The venus flytrap has only been found natively in North and South Carolina.
Another nickname is the Old North State.
The first colony established was on Roanoke Island. However, it mysteriously disappeared. Today it is called the Lost Colony and only thing left is the word 'croatan' carved on a tree.
Krispy Kreme Doughnuts was founded in Winston-Salem, NC.
Three US presidents were born in NC. They are James K. Polk, Andrew Jackson, Andrew Johnson.
Professional Sports Teams
Carolina Hurricanes - NHL (hockey)
Carolina Panthers - NFL (football)
Charlotte Bobcats (Hornets) - NBA (basketball)


Geography >> US States>> North Carolina History

For state symbols, flag, maps, geography, and fun facts: