Capital: San Juan

Population: 3,195,153 (Source: 2012 U.S. Census)

Major Cities: San Juan

Borders:

Gross Domestic Product (GDP):

Key Industries:


How Puerto Rico got its name: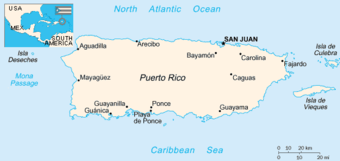 Click on map for larger view
Puerto Rico State Symbols
State Nickname: Isle of Enchantment

State Slogan:

State Motto: John is his name

State flower: Puerto Rican hibiscus

State bird: Stripe-headed tanager 

State fish:

State tree: silk-cotton tree

State mammal:

State foods:


Becoming a State
Date admitted: NA

Number admitted: NA

Prior Name: NA

Postal Abbreviation: PR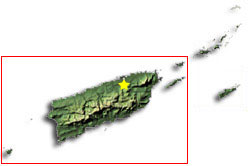 The Geography of Puerto Rico
Total Size: 3,492 sq. miles

Geographical Low Point: Atlantic Ocean at Sea Level (source: U.S. Geological Survey)

Geographical High Point: Cerro de Punta at 4,390 feet, located in the county/subdivision of Ponce District (source: U.S. Geological Survey)

Central Point:

Counties: 78 Municipalities

Bodies of Water:


Famous People
Fun Facts
Puerto Rico is not a state, it is an unincorporated territory of the United States. It is located in the Caribbean Sea.
Puerto Rico has both Spanish and English for its official languages.
The island is very hilly, 75% of the island is made up of mountains or hills.
The famous boy band, Menudo, is from Puerto Rico.
Puerto Rico's largest city is San Juan. San Juan is the oldest city in US territory. It was founded by Ponce de Leon in 1521.
It is around the size of the state of Connecticut.
The island's mascot is a tiny tree frog called the coquí.
La Iglesia de San Jose is the oldest church still in use in the Americas.
Cabo Rojo is known for its tailors and is called the Town of Tailors.
The Tainos were living on Puerto Rico when Christopher Columbus arrived in 1493.
Professional Sports Teams


Geography >> US States

For state symbols, flag, maps, geography, and fun facts: