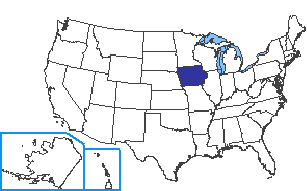 Capital: Des Moines

Population: 3,156,145 (Source: 2012 U.S. Census)

Major Cities: Des Moines, Cedar Rapids, Davenport, Sioux City, Waterloo

Borders: Wisconsin, Illinois, Missouri, Nebraska, South Dakota, Minnesota

Gross Domestic Product (GDP): $152,436 million (2012 U.S. Department of Commerce)

Key Industries:
Agriculture including corn, soybeans, hogs, oats, cattle, and dairy products
Heavy machinery, food processing, chemicals, banking, finance, and biotechnology

How Iowa got its name: The name comes from the Ioway, one of the Native American tribes that lived in the region.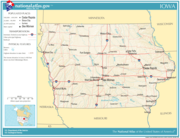 Click on map for larger view
Iowa State Symbols
State Nickname: Hawkeye State

State Slogan: Life Changing; Fields of Opportunity

State Motto: Our liberties we prize and our rights we will maintain

State flower: Wild Prairie Rose

State bird: Eastern Goldfinch aka American Goldfinch

State fish: Channel catfish

State tree: Oak

State mammal: NA

State foods: Corn


Becoming a State
Date admitted: Monday, December 28, 1846

Number admitted: 29

Prior Name: Iowa Territory

Postal Abbreviation: IA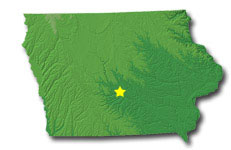 The Geography of Iowa
Total Size: 55,869 sq. miles (source: 2003 Census)

Geographical Low Point: Mississippi River at 480 feet, located in the county/subdivision of Lee (source: U.S. Geological Survey)

Geographical High Point: Hawkeye Point at 1,670 feet, located in the county/subdivision of Osceola (source: U.S. Geological Survey)

Central Point: Located in Story County approx. 5 miles northeast of Ames (source: U.S. Geological Survey)

Counties: 99 (source: National Association of Counties)

Bodies of Water: Mississippi River, Missouri River, Des Moines River, Cedar River, Spirit Lake, West Okoboji Lake, Saylorville Lake, Lake Red Rock


Famous People
Johnny Carson - Talk show host
Buffalo Bill Cody - Cowboy, showman, and U.S. army scout
Herbert Hoover - The 31st President of the United States
Shawn Johnson - Olympic Gold Medal gymnast
Lolo Jones - Track and Field hurdler
Ashton Kutcher - Actor
Ann Landers - Advice columnist
Jerry Mathers - Played the Beaver on Leave it to Beaver
Glenn Miller - Songwriter and conductor
Kurt Warner - Professional football player
John Wayne - Actor
Elijah Wood - Actor
Fun Facts
The Hawkeye State nickname comes from the Iowan Native American, Chief Black Hawk.
Iowa played a key role in the Underground Railroad that rescued slaves from the South.
In 1907 Fred Maytag invented the clothes washing machine in Newton, Iowa.
Iowa produces 10% of the United States food supply.
The eastern and western borders of Iowa are entirely made of water. The Mississippi River forms the border to the east and the Missouri River to the west.
Burlington's Snake Alley has been called the most crooked street in the world.
The largest Danish settlement in the US was in Elk Horn, Iowa. It is home to the Danish Immigrant Museum.
President Herbert Hoover was born in West Branch, Iowa. He was the first president born west of the Mississippi.
It is the only US state name that begins with two vowels.
Professional Sports Teams
There are no major professional sports teams in Iowa.

Geography >> US States>> Iowa History

For state symbols, flag, maps, geography, and fun facts: