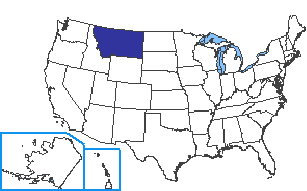 Capital: Helena

Population: 1,062,305 (Source: 2012 U.S. Census)

Major Cities: Billings, Missoula, Great Falls, Bozeman, Butte, Helena

Borders: Wyoming, Idaho, South Dakota, North Dakota, Canada

Gross Domestic Product (GDP): $40,422 million (2012 U.S. Department of Commerce)

Key Industries:
Agriculture including wheat, cattle, sheep, barley, sugar beets, and dairy products
Mining (copper, gold, and coal), paper products, lumber and wood products, printing, and tourism

How Montana got its name: The name Montana is a Spanish word that means mountainous.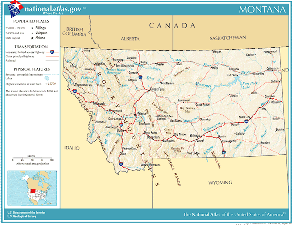 Click on map for larger view
Montana State Symbols
State Nickname: Treasure State

State Slogan: Big Sky Country

State Motto: Oro y plata (Gold and silver)

State flower: Bitterroot

State bird: Western Meadowlark

State fish: Blackspotted cutthroat trout

State tree: Ponderosa Pine

State mammal: Grizzly bear

State foods: NA


Becoming a State
Date admitted: Friday, November 8, 1889

Number admitted: 41

Prior Name: Montana Territory

Postal Abbreviation: MT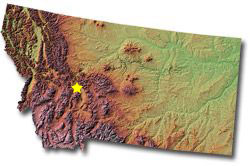 The Geography of Montana
Total Size: 145,552 sq. miles (source: 2003 Census)

Geographical Low Point: Kootenai River at 1800 feet, located in the county/subdivision of Lincoln (source: U.S. Geological Survey)

Geographical High Point: Granite Peak at 12,799 feet, located in the county/subdivision of Park (source: U.S. Geological Survey)

Central Point: Located in Fergus County approx. 11 miles west of Lewistown (source: U.S. Geological Survey)

Counties: 56 (source: National Association of Counties)

Bodies of Water: Fort Peck Lake, Flathead Lake, Hungry Horse Reservoir, Whitefish Lake, Yellowstone River, Missouri River, Milk River, and Clark Fork River


Famous People
Dana Carvey - Actor and comedian
Gary Cooper - Actor
A. B. Guthrie, Jr. - Author
John Horner - Paleontologist
Phil Jackson - Basketball coach
Evel Knievel - Dare devil and entertainer
David Lynch - Movie director
Jeannette Rankin - First woman elected to the U.S. Congress
Martha Raye - Actress and Singer
Ted Turner - Owns several ranches in Montana
Fun Facts
Montana is the 4th largest state in size, but the 44th in population.
Three of the five entrances to Yellowstone National Park are in Montana.
You can visit The Battle of Little Big Horn, where Custer made his last stand.
Montana is home to Glacier National Park.
The name Montana comes from a Spanish word meaning mountainous. This name is fitting as the state has over 50 mountain ranges.
Another nickname for the state is Big Sky Country.
Montana is rich in deposits of copper, silver, and gold. This is how it got the name the Treasure State.
There are seven American Indian reservations in Montana.
The state is full of wildlife. The elk, deer and antelope populations all outnumber the humans.
Professional Sports Teams
There are no major professional sports teams in Montana.

Geography >> US States>> Montana History

For state symbols, flag, maps, geography, and fun facts: