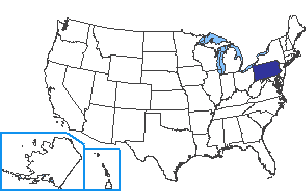 Capital: Harrisburg

Population: 12,807,060 (Source: 2012 U.S. Census)

Major Cities: Philadelphia, Pittsburgh, Allentown, Erie, Reading, Scranton, Bethlehem

Borders: Ohio, West Virginia, Maryland, Delaware, New Jersey, New York

Gross Domestic Product (GDP): $600,897 million (2012 U.S. Department of Commerce)

Key Industries:
Agriculture including apples, mushrooms, Christmas trees, chickens, and grapes
Electronics equipment, banking, insurance, pharmaceuticals, steel, and food processing

How Pennsylvania got its name: The name Pennsylvania comes from the founder of the English Colony, William Penn. The word sylvania means forest land in Latin.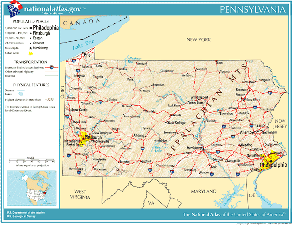 Click on map for larger view
Pennsylvania State Symbols
State Nickname: Keystone State

State Slogan: State of Independence; (formerly) Memories Last a Lifetime, You've Got a Friend in Pennsylvania

State Motto: Virtue, liberty, and independence

State flower: Mountain Laurel

State bird: Ruffed Grouse

State fish: Brook trout

State tree: Hemlock

State mammal: White-tailed deer, Great Dane

State foods: Chocolate Chip Cookie


Becoming a State
Date admitted: December 12, 1787

Number admitted: 2

Prior Name: Province of Pennsylvania, then sovereign state in Confederation

Postal Abbreviation: PA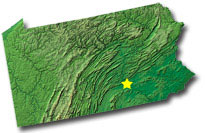 The Geography of Pennsylvania
Total Size: 44,817 sq. miles (source: 2003 Census)

Geographical Low Point: Delaware River at Sea Level (source: U.S. Geological Survey)

Geographical High Point: Mt. Davis at 3,213 feet, located in the county/subdivision of Somerset (source: U.S. Geological Survey)

Central Point: Located in Centre County approx. 2 1/2 miles southwest of Bellefonte (source: U.S. Geological Survey)

Counties: 67 (source: National Association of Counties)

Bodies of Water: Lake Erie, Allegheny Reservoir, Raystown Lake, Delaware River, Susquehanna River, Allegheny River, Monongahela River


Famous People
Guion S. Bluford - First African-American in space
Daniel Boone - American explorer and folk hero
Kobe Bryant - Basketball player
James Buchanan - the 15th President of the United States
Rachel Carson - Environmentalist
Milton Hershey - Founder of the Hershey Chocolate Corporation
Grace Kelly - Actress
Chris Matthews - Talk show host
Joe Montana - Football player
Joe Namath - Football Player
Arnold Palmer - Golfer
Fred Rogers - Host of Mr. Rogers TV show
Betsy Ross - Designer of the U.S. Flag
Will Smith - Actor
Jimmy Stewart - Actor
Taylor Swift - Singer and songwriter
Andy Warhol - Artist
Fun Facts
Pennsylvania is called the Keystone State because of its central location of the original 13 colonies.
The Constitution of the United States, the Declaration of Independence, and the Gettysburg Address were all written in Pennsylvania.
The first zoo in America was the Philadelphia Zoo.
The first public school in the American colonies was in Philadelphia.
William Penn founded the colony of Pennsylvania. He was granted the land by King Charles II of England.
The first commercial radio station was KDKA in Pittsburgh. It was founded in 1920.
Hershey is the home of the world's largest chocolate factory and is called the Chocolate Capital of the World. The whole city smells like chocolate. Yummy!
The Philadelphia Zoo, which opened in 1874, is the oldest zoo in the country.
The Liberty Bell, located in Philadelphia, is known as a symbol of American Independence.
Professional Sports Teams
Philadelphia Eagles - NFL (football)
Philadelphia Flyers - NHL (hockey)
Philadelphia Phillies - MLB (baseball)
Philadelphia Union - MLS (soccer)
Philadelphia 76ers - NBA (basketball)
Pittsburgh Penguins - NHL (hockey)
Pittsburgh Pirates - MLB (baseball)
Pittsburgh Steelers - NFL (football)


Geography >> US States>> Pennsylvania History

For state symbols, flag, maps, geography, and fun facts: