Capital: Phoenix

Population: 7,171,646 (Source: 2012 U.S. Census)

Major Cities: Phoenix, Tucson, Mesa, Chandler, Glendale, Scottsdale, Gilbert

Borders: California, Colorado, Nevada, New Mexico, Utah, Mexico

Gross Domestic Product (GDP): $266,891 million (2012 U.S. Department of Commerce)

Key Industries:
Copper mining, cotton, manufacturing, electronics, cattle, and tourism

How Arizona got its name: Historians are not sure exactly where the name for Arizona originated. Most think that it came from a Native American word meaning little spring. Some other names were considered for the territory including Montezuma and Arizuma.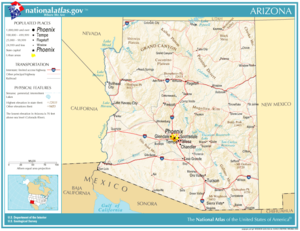 Click on map for larger view
Arizona State Symbols
State Nickname: Grand Canyon State

State Slogan: The Grand Canyon State; also on its license plate

State Motto: Ditat Deus (God enriches)

State flower: Saguaro Cactus blossom

State bird: Cactus Wren

State fish: Apache trout

State tree: Palo Verde

State mammal: Ringtail

State foods: Prickly-pear cactus


Becoming a State
Date admitted: Wednesday, February 14, 1912

Number admitted: 48

Prior Name: Arizona Territory

Postal Abbreviation: AZ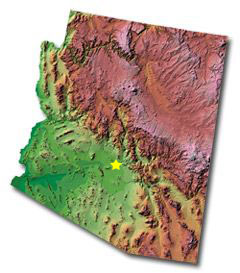 The Geography of Arizona
Total Size: 113,635 sq. miles (source: 2003 Census)

Geographical Low Point: Colorado River at 70 feet, located in the county/subdivision of Yuma (source: U.S. Geological Survey)

Geographical High Point: Humphreys Peak at 12,633 feet, located in the county/subdivision of Coconino (source: U.S. Geological Survey)

Central Point: Located in Yavapai County approx. 55 miles east-southeast of Prescott (source: U.S. Geological Survey)

Counties: 15 (source: National Association of Counties)

Bodies of Water: Major bodies of water include the Colorado River, Gila River, Lake Mead, Lake Havasu, and Lake Powell.


Famous People
Cesar Chavez - Civil rights leader
Ted Danson - Actor from the TV show Cheers
Geronimo - Leader of the Apache people
Zane Grey - Author of western novels
David Henrie - Actor from Wizards of Waverly Place
Reggie Jackson - Professional baseball player
Joe Jonas - Singer and actor
Phil Mickelson - Professional golfer
Stevie Nicks - Rock singer and musician
Sandra Day O'Connor - First female justice of the United States Supreme Court
Danica Patrick- Professional race car driver
Pat Tillman - NFL player who died fighting in the Afghanistan War
Fun Facts
Arizona is home to the Gila Monster, the only poisonous lizard in the United States.
Arizona's geography varies from hot deserts to high snowy mountains.
Arizona was once part of Mexico.
The famous Gunfight at the O.K. Corral took place in Tombstone, Arizona.
Stones from the London Bridge in England were shipped to Lake Havasu City, where the bridge was reconstructed in 1971.
The Grand Canyon National Park is in Arizona.
This state has eleven species of rattle snakes.
The official neckwear is the bola tie.
Yuma is one of the sunniest cities in the world. It is sunny there around 90% of the time.
Professional Sports Teams
Arizona Cardinals - NFL (Football)
Arizona Diamondbacks - MLB (Baseball)
Phoenix Coyotes - NHL (Hockey)
Phoenix Suns - NBA (Basketball)
Phoenix Mercury - WNBA (Basketball)


Geography >> US States>> Arizona History

For state symbols, flag, maps, geography, and fun facts: