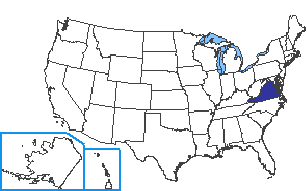 Capital: Richmond

Population: 8,517,685 (Source: 2012 U.S. Census)

Major Cities: Virginia Beach, Norfolk, Chesapeake, Richmond, Newport News, Alexandria

Borders: North Carolina, Tennessee, Kentucky, West Virginia, Maryland, Washington D.C., Atlantic Ocean

Gross Domestic Product (GDP): $445,876 million (2012 U.S. Department of Commerce)

Key Industries:
Agriculture including tomatoes, soybeans, peanuts, tobacco, and hay
Computer chips, communications technology, military, data centers, lumber, and the federal government

How Virginia got its name: The name Virginia comes from Queen Elizabeth I, who was known as the Virgin Queen.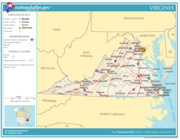 Click on map for larger view
Virginia State Symbols
State Nickname: Old Dominion

State Slogan: Virginia is for Lovers

State Motto: Sic semper tyrannis (Thus always to tyrants)

State flower: American Dogwood

State bird: Cardinal

State fish: Brook trout

State tree: American Dogwood

State mammal: American Foxhound

State foods: Ham


Becoming a State
Date admitted: Wednesday, June 25, 1788

Number admitted: 10

Prior Name: Virginia Colony, then sovereign state in Confederation

Postal Abbreviation: VA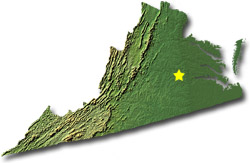 The Geography of Virginia
Total Size: 39,594 sq. miles (source: 2003 Census)

Geographical Low Point: Atlantic Ocean at Sea Level (source: U.S. Geological Survey)

Geographical High Point: Mt. Rogers at 5,729 feet, located in the county/subdivision of Grayson-Smyth (source: U.S. Geological Survey)

Central Point: Located in Buckingham County approx. 5 miles southwest of Buckingham (source: U.S. Geological Survey)

Counties: 95 (source: National Association of Counties)

Bodies of Water: Atlantic Ocean, Chesapeake Bay, Potomac River, James River, Rappahannock River, Buggs Island Lake, Philphott Lake, Lake Anna, Smith Mountain Lake


Famous People
Arthur Ashe - Tennis player
Sandra Bullock - Actress
William Clark - Leader of the Lewis and Clark expedition
Katie Couric - Talk show host
Gabby Douglas - Gymnast
Ella Fitzgerald - Singer
William Henry Harrison - The 9th President of the United States
Thomas Jefferson - The 3rd President of the United States
Robert E. Lee - Confederate general
Rob Lowe - Actor
James Madison - The 4th President of the United States
James Monroe - The 5th President of the United States
Dred Scot - Slave and civil rights activist
Zachary Taylor - The 12th President of the United States
Lawrence Taylor - Professional football player
John Tyler - The 10th President of the United States
George Washington - The 1st President of the United States
Woodrow Wilson - The 28th President of the United States
Fun Facts
Virginia is named after Queen Elizabeth I of England who was called the Virgin Queen.
This state is the birthplace of 8 US presidents, more than any other state. They are George Washington, Thomas Jefferson, James Madison, James Monroe, William Harrison, John Tyler, Zachary Taylor, and Woodrow Wilson. This includes seven of the first 12 presidents.
It is often called the 'mother of states' as portions of the original colony are now part of 6 different states.
Virginia Beach is the most populous city.
The first English settlement in the United States was Jamestown.
Richmond was capital of the Confederate States during the Civil War.
Virginia was a battleground during the Civil War. More than half the battles were fought on Virginia soil.
You can visit both George Washington's home (Mount Vernon) and Thomas Jefferson's home (Monticello) in Virginia.
The state song is 'Carry me back to Old Virginia'.
The state fossil, Chesapecten jeffersonius, was named for the Chesapeake Bay and Thomas Jefferson.
Professional Sports Teams
Virginia has no major professional sports teams.

Geography >> US States>> Virginia History

For state symbols, flag, maps, geography, and fun facts: