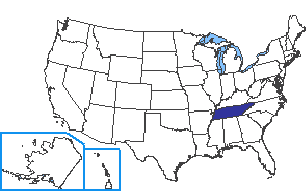 Capital: Nashville

Population: 6,770,010 (Source: 2012 U.S. Census)

Major Cities: Memphis, Nashville, Knoxville, Chattanooga, Clarksville

Borders: Kentucky, Virginia, North Carolina, Georgia, Alabama, Mississippi, Arkansas, Missouri

Gross Domestic Product (GDP): 277,036 million (2012 U.S. Department of Commerce)

Key Industries:
Agriculture including cattle, hogs, chickens, cotton, soybeans, wheat, apples, and peaches
Textiles, electrical power, automobile manufacturing, tourism, and electronic equipment

How Tennessee got its name: Tennessee comes from the name of a Cherokee Indian village named Tanasi.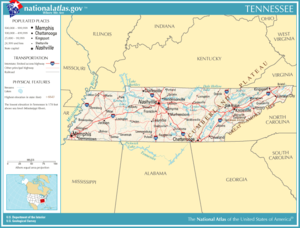 Click on map for larger view
Tennessee State Symbols
State Nickname: Volunteer State

State Slogan: The Stage Is Set For You; (formerly) Sounds Good to Me (formerly) Follow Me To Tennessee; also on its license plate

State Motto: Agriculture and Commerce (1987)

State flower: Iris

State bird: Mockingbird

State fish: Smallmouth bass (sport fish), Channel catfish (state commercial fish)

State tree: Tulip Poplar

State mammal: Common Raccoon, Tennessee walking horse

State foods: Corn Meal


Becoming a State
Date admitted: Wednesday, June 1, 1796

Number admitted: 16

Prior Name: Province of North Carolina, Southwest Territory

Postal Abbreviation: TN



The Geography of Tennessee
Total Size: 41,217 sq. miles (source: 2003 Census)

Geographical Low Point: Mississippi River at 178 feet, located in the county/subdivision of Shelby (source: U.S. Geological Survey)

Geographical High Point: Clingmans Dome at 6,643 feet, located in the county/subdivision of Sevier (source: U.S. Geological Survey)

Central Point: Located in Rutherford County approx. 5 miles northeast of Murfreesboro (source: U.S. Geological Survey)

Counties: 95 (source: National Association of Counties)

Bodies of Water: Kentucky Lake, Norris Lake, Center Hill Lake, Douglas Lake, Tennessee River, Duck River, Cumberland River, Mississippi River


Famous People
Bill Belichick - NFL Football coach
Kenny Chesney - Country music singer
Davy Crockett - Folk hero and frontiersman
Miley Cyrus - Singer and actress
Aretha Franklin - Singer
Morgan Freeman - Actor
Dolly Parton - Country music singer
Oscar Robertson - Professional basketball player
Justin Timberlake - Singer and actor
Usher - Singer and actor
Fun Facts
Tennessee borders 8 other states.
From Lookout Mountain you can see parts of 7 different states.
The three stars on the Tennessee flag represent the three major geographic regions of the state.
The 1996 Olympic white water events were held at Ocoee River in Tennessee.
The name Tennessee comes from the Native American words Tanasi or Tansqui.
It is called the Volunteer State because when soldiers were needed in the War of 1812, Tennessee soldiers volunteered and helped to defeat the British at the Battle of Orleans.
The oldest running radio show in the United States is the Grand Ole Opry from Nashville.
Memphis is the home of Elvis Presley's home Graceland.
Knoxville has the nickname The Marble City. Nashville has the nickname Music City.
The world's largest freshwater aquarium is in Chattanooga.
Professional Sports Teams
Memphis Grizzlies - NBA (Basketball)
Tennessee Titans - NFL (Football)
Nashville Predators - NHL (Hockey)


Geography >> US States>> Tennessee History

For state symbols, flag, maps, geography, and fun facts: