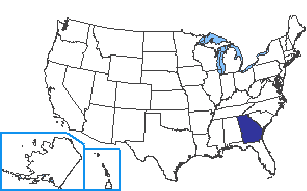 Capital: Atlanta

Population: 10,519,475 (Source: 2012 U.S. Census)

Major Cities: Atlanta, Augusta, Columbus, Savannah, Athens

Borders: Alabama, Tennessee, South Carolina, North Carolina, Florida, and the Atlantic Ocean

Gross Domestic Product (GDP): $433,569 million (2012 U.S. Department of Commerce)

Key Industries:
Agriculture including peanuts, peaches, cotton, and poultry
Timber, carpet, textiles, and paper products

How Georgia got its name: Georgia was named for King George II who signed the charter for James Oglethorpe to start the colony.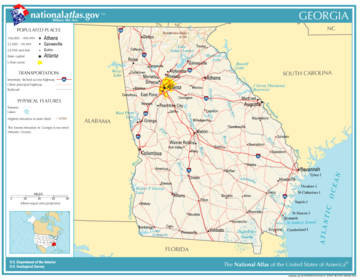 Click on map for larger view
Georgia State Symbols
State Nickname: Peach State

State Slogan: Georgia on My Mind; also its state song

State Motto: Wisdom, justice, and moderation

State flower: Cherokee Rose

State bird: Brown Thrasher

State fish: Largemouth bass

State tree: Live Oak

State mammal: Right whale

State foods: Grits, Peaches, Vidalia Sweet Onions


Becoming a State
Date admitted: Wednesday, January 2, 1788

Number admitted: 4

Prior Name: Province of Georgia, then sovereign state in Confederation

Postal Abbreviation: GA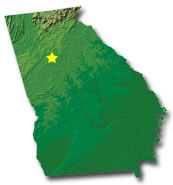 The Geography of Georgia
Total Size: 57,906 sq. miles (source: 2003 Census)

Geographical Low Point: Atlantic Ocean at Sea Level (source: U.S. Geological Survey)

Geographical High Point: Brasstown Bald at 4,784 feet, located in the county/subdivision of Towns-Union (source: U.S. Geological Survey)

Central Point: Located in Twiggs County approx. 18 miles southeast of Macon (source: U.S. Geological Survey)

Counties: 159 (source: National Association of Counties)

Bodies of Water: Chattahoochee River, Savannah River, Lake Lanier, Lake Hartwell, and the Atlantic Ocean


Famous People
Jim Brown - Professional football player
Jimmy Carter - 39th President of the United States
Ray Charles - Singer, songwriter, and piano player
Ty Cobb - Professional baseball player
Jeff Foxworthy - Comedian and actor
Hulk Hogan - Professional wrestler
Dwight Howard - Professional basketball player
Calvin Johnson - Professional football player
Martin Luther King Jr. - Civil rights activist
Spike Lee - Film director and actor
Julia Roberts - Actress
Jackie Robinson - First African-American to play in the MLB
Ryan Seacrest - Host of American Idol and TV personality
Clarence Thomas - U.S. Supreme Court Justice
Fun Facts
Atlanta, GA hosted the 1996 Centennial Summer Olympic Games.
It is the largest state east of the Mississippi River.
There is a giant carving (3 acres large!) on the side of Stone Mountain of Confederate leaders Robert E. Lee, Stonewall Jackson, and Jefferson Davis. You can see a laser show projected onto the carving at night during the summer.
There are over 50 streets with the word 'Peachtree' in their name in Atlanta, Georgia.
It is also called the Goober State because of all the peanuts they grow there.
Georgia Tech once beat Cumberland University 222 - 0 in a football game. This was the worst defeat in the history of college football.
The first woman US Senator, Rebecca Latimer Felton, was from Georgia.
Why didn't the chicken cross the road in Quitman, Georgia? Because it is illegal there!
The world's largest college campus is Berry College.
President Jimmy Carter was born in Plains, GA.
Professional Sports Teams
Atlanta Braves - MLB (Baseball)
Atlanta Falcons - NFL (Football)
Atlanta Dream - WNBA (Basketball)
Atlanta Hawks - NBA (Basketball)
Atlanta United FC - MLS (Soccer)


Geography >> US States>> Georgia History

For state symbols, flag, maps, geography, and fun facts: