Biography
Tom Brady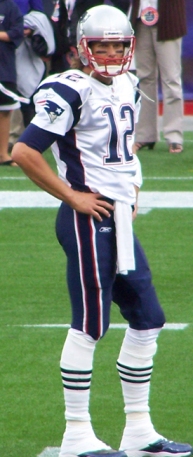 Tom Brady
by
Denis Laflamme
Sports
>>
Football
>>
Biographies
Occupation: Football Player
Born: August 3, 1977 in San Mateo, California
Nickname: Tom Terrific
Best known for: Winning four Super Bowls with the New England Patriots
Biography:
Tom Brady is a professional quarterback in the National Football League. He plays for the New England Patriots. He is considered to be one of the best quarterbacks to ever play football. His season in 2007 was one of the greatest seasons ever by a quarterback. He also has led the Patriots to 4 Super Bowl championships. He is known for his intelligence as a quarterback, his accurate passing, and his ability to lead his team to wins in championship games.
Where did Tom Brady grow up?
Tom was born in San Mateo, California on August 3, 1977. He grew up and went to high school in San Mateo.
Did Tom Brady go to college?
Brady went to college and played quarterback at the University of Michigan. He wasn't rated high by professional scouts and dropped all the way to the 199th pick before he was drafted by the New England Patriots. In the end, however, Tom turned out to be one of the best players in the draft.
At the beginning of his rookie year, Tom was the fourth string quarterback. He hardly played that first year. However, in his second season, the starting quarterback, Drew Bledsoe, got hurt and Tom got his chance to play. Tom played great and led the Patriots to the playoffs and their first Super Bowl win.
How many Super Bowls has Tom Brady won?
Tom has won 4 Super Bowls with the New England Patriots (2001, 2003, 2004,2014). He also played in the Super Bowl in 2007 and 2011 where the Patriots lost to the New York Giants both times.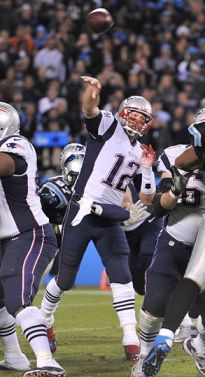 Tom Brady Throws a Pass
by
Airman 1st Class Jonathan Bass
What number does Tom Brady wear?
He wears the number 12 with the Patriots. He wore number 10 when he played for the University of Michigan.
Does Tom hold any NFL records?
Tom Brady holds many quarterback records and has won many awards in the NFL. Some of them include:
Most career wins with one team: 172
Most passing touchdowns in one quarter: 5
He holds the playoff record for most touchdown passes (56), most passing yards (7,967), and most passes completed (683). (as of the 2015 season)
Most completions in a single Super Bowl: 37
Most career Super Bowl completions: 164 (as of the 2015 season)
Most times to have played in a Super Bowl: 6 (tied with Mike Lodish)
Fun Facts about Tom Brady
He grew up a San Francisco 49ers fan and Joe Montana was one of his heroes.
He is married to Brazilian supermodel Gisele Bundchen.
Tom was the youngest player to win a Super Bowl (now the 2nd youngest).
He likes to play practical jokes on his teammates.
Tom Brady was also a very good baseball player. He was actually drafted by the Montreal Expos as a catcher.
Six quarterbacks were selected before Brady in the 2000 NFL draft.
He went to the same high school as Barry Bonds and Lynn Swann.
Other Sports Legend's Biographies:
Sports
>>
Football
>>
Biographies