Jesse Owens Biography

Sports >> Track and Field >> Biographies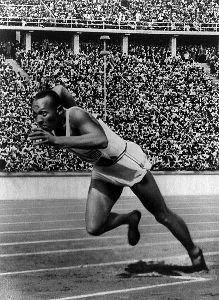 Occupation: Track and Field Athlete
Born: September 12, 1913 in Oakville, Alabama
Died: March 31, 1980 in Tucson, Arizona
Nickname: The Buckeye Bullet, Jesse
Best known for: Winning four Gold Medals in the 1936 Olympic Games
Biography:

Jesse Owens was one of the greatest athletes in the history of Olympic sports. His exploits in the 1936 Olympics will go down as one of the greatest sporting achievements of all time.

Where did Jesse Owens grow up?

Jesse Owens was born in Oakville, Alabama on September 12, 1913. He grew up in Alabama with his 10 brothers and sisters. When he was nine years old, his family moved to Cleveland, Ohio.

Jesse discovered early that he was faster than the rest of the kids. In middle school he had to work after school to make money, but his track coach, Charles Riley, let him practice before school. Jesse said that the encouragement he got from Coach Riley went a long way in helping him to succeed in track and field.

Jesse first showed the world his athletic talents at the 1933 National High School Championships. He tied the world record in the 100 yard dash at 9.4 seconds and long jumped 24 feet 9 1/2 inches.

Where did Jesse Owens go to college?

Jesse attended Ohio State University for college. While at Ohio State, Jesse was the best track and field athlete in the NCAA. He won eight individual championships in two years. At a 1935 Big Ten track meet in Michigan, Jesse had perhaps the greatest set of track and field events in the history of track. In just 45 minutes of competition, Jesse tied one world record (100 yard sprint) and broke 3 world records (220 yard sprint, 220 yard hurdles, long jump).

How did he get the nickname Jesse?

Jesse's given name was James Cleveland Owens. As a kid, his nickname was J.C. for James Cleveland. When he moved from Alabama to Ohio, he told his teacher his name was "JC", but she heard it wrong and wrote down Jesse. He was called Jesse ever since.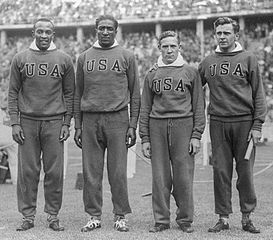 1936 Summer Olympics

The 1936 Summer Olympics were held in Berlin, Germany. This was the time when Adolf Hitler had gained power through his Nazi party, but before WWII had broken out. Part of Hitler's philosophy was the superiority of the white race. He expected Germans to dominate the Olympic games. Jesse Owens, however, had his own chapter to write into history. Jesse won four gold medals in the games including gold for the 100 meter sprint, the 200 meter sprint, the 2x100 meter relay, and the long jump.

Later Life

After the Olympics Jesse returned home. He had a tough time for the next several years. At one point he filed for bankruptcy and worked as a gas station attendant to pay the bills. He sometimes raced horses at events to earn money. Things turned around for Jesse when he was appointed a goodwill ambassador for the United States government. Jesse died of lung cancer on March 31, 1980.

Fun Facts about Jesse Owens
He was a member of the Alpha Phi Alpha fraternity in college.
At Ohio State, he was known as the "Buckeye Bullet".
He was awarded the Presidential Medal of Freedom in 1976 by President Ford.
The Jesse Owens Award is given out annually to the top track and field athlete in the United States.
There have been two US Postage stamps (1990, 1998) in honor of Jesse Owens.
The track and field stadium at Ohio State is called the Jesse Owens Memorial Stadium.
He was married to Minnie Ruth Solomon in 1935. They had three daughters together.
ESPN ranked Jesse as the sixth greatest North American athlete of the twentieth century.
Other Sports Legend's Biographies:


Sports >> Track and Field >> Biographies