Tiger Woods

Back to Sports
Back to Golf
Back to Biographies

Tiger Woods is more than just a really great golf video game. Tiger Woods is a real person and perhaps the greatest golfer of all time.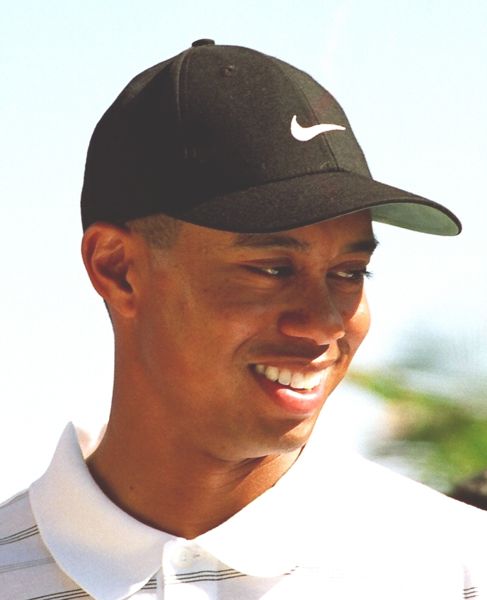 Is "Tiger" his real first name?

No, Tiger Woods was born Eldrick Tont Woods on December 30, 1975 in Cypress, California. He got the nickname Tiger from a soldier friend of his fathers. The name stuck and today he is so famous that most people just know him as Tiger.

Was Tiger Woods a good golfer as a kid?

Yes, Tiger Woods was a great golfer as a kid. Tiger Woods started playing golf as a toddler at the age of 2. He even went on TV to show how good he could putt. At the age of three Tiger was playing regular golf courses and doing very well. He was so good at 5 years old that he was in the golf magazine, Golf Digest. When Tiger was 8 years old, he won the Junior World Golf Championship against 9 and 10 year olds. As Tiger grew up he would win the junior golf championship 6 times!

Why is Tiger Woods considered to be a great golfer?

At the writing of this article, Tiger is only 32 years old. He likely has many years of great golf ahead of him. However, even being so young, Tiger holds many records in golf. He has won 65 professional golf championships. That's 3rd all time. He has also won 14 major golf championships which is 2nd all time. Tiger Woods was the fastest and youngest player to win 50 championships and was the youngest to win the career grand slam (all four major tournaments).

Tiger's greatness may be more than just his pro championships and records. He also dominated the amateur game before he turned pro. He is the only athlete to twice be named Sports Illustrated's Sportsman of the Year. Tiger's "roaring" comebacks at the end of tournaments are legendary and he strikes fear into the heart of many golfers.

Perhaps the tournament that demonstrated just how great a golfer Tiger Woods is was the 2008 US Open. After being out some time with an injury, Tiger decided to play in the US Open. He was visibly in pain nearly every time he took a shot. Tiger fell back after the first day of playing and many felt he would not be a factor. Tiger toughed it out, though, and limping and in pain, came back and won the tournament on the final day. Many have said it was the greatest golf tournament ever played.

How much money does Tiger Woods make?

Tiger Woods has done quite well. He is the all time money leader on the PGA tour. He also does well with endorsements with companies like Nike, General Motors, American Express, and Titleist. It is estimated that he made well over $100 million a year from 2007 to 2009.
Other Sports Legend's Biographies: