Kobe Bryant
Back to
Sports
Back to
Basketball
Back to
Biographies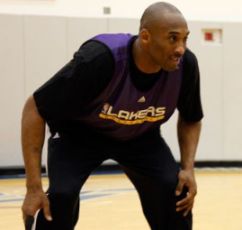 Kobe Bryant is famous for being one of the star basketball players in the NBA. He plays guard for the Los Angeles Lakers. He is known for his tough defense, vertical leap, and ability to score winning baskets at the end of the game. He is widely considered the best basketball player of the decade (2000's) and perhaps one of the best of all time.

Where was Kobe born?

Kobe was born in Philadelphia, Pennsylvania on August 23, 1978. He has two older sisters, Sharia and Shaya. His dad, Jellybean Joe Bryant was a pro basketball player, too.

Did Kobe Bryant go to college?

Kobe decided not to attend college and to go straight to professional basketball. He said that if he had gone to college, he would have chosen Duke. He was the 13th player taken in the 1996 draft. He was actually drafted by the Charlotte Hornets and then traded to the Lakers immediately for center Vlade Divac. He was only 17 years old when he was drafted and only 18 when his first NBA season started.

Has Kobe won any Championships?


Yes. While Kobe Bryant has been on the LA Lakers they have won 5 NBA championships. The first 3 championships were early on in his career (2000-2002). All-Star center Shaquille O'Neal was his teammate at the time. After Shaq was traded, it took some time for the Lakers to rebuild, but they won two more championships in 2009 and 2010.
His high school team won the state championship his senior year.
He has won two Olympic Gold medals for basketball in 2008 and 2012.
He was the NBA slam dunk champion in 1997.
Does Kobe hold any records?
Kobe scored 81 points in an NBA game, which is the second most ever scored in a single game.
He holds the record for the most career points scored by a Los Angeles Laker.
He is the youngest player to score 26,000 career points. He actually held a lot of the "youngest" records in the NBA, but LeBron James is catching him in many categories.
Kobe was the NBA scoring champion in 2006 and 2007.
Fun Facts about Kobe Bryant
Kobe was the first guard to be drafted by the NBA out of high school.
Kobe has played for the Los Angeles Lakers his entire professional career.
He was the youngest player to start an NBA game.
He has been selected for the All-NBA defensive first team 9 times.
Kobe's mom's brother, John Cox, also played in the NBA.
He was named after the Japanese steak "kobe".
His middle name is Bean.
Other Sports Legend's Biographies: