Middle East

Geography
The Middle East is a region of Asia that is bordered by Asia to the east, Europe to the northwest, Africa to the southwest, and the Mediterranean Sea to the west. Parts of Africa (primarily Egypt and Sudan) are usually considered part of the Middle East as well. Many of today's countries of the Middle East were formed from the partitioning of the Ottoman Empire.

Economically, the Middle East is known for its vast oil reserves. It is also known as the home of three major world religions: Christianity, Islam, and Judaism. Because of its economic, religious, and geographical location, the Middle East has been at the center of many world issues and political affairs.

The Middle East is rich with history. Several great ancient civilizations were formed in the Middle East including Ancient Egypt, The Persian Empire, and the Babylonian Empire


Population: 368,927,551 (Source: Estimate from population of countries included)

Area: 2,742,000 square miles

Major Biomes: desert, grasslands

Major cities:

Istanbul, Turkey
Tehran, Iran
Baghdad, Iraq
Riyadh, Saudi Arabia
Ankara, Turkey
Jiddah, Saudi Arabia
Izmir, Turkey
Mashhad, Iran
Halab, Syria
Damascus, Syria


Click here to see large map of Middle East
Countries of the Middle East
Learn more about the countries from the Middle East. Get all sorts of information on each Middle Eastern country including a map, a picture of the flag, population, and much more. Select the country below for more information:


Coloring Map
Color in this map to learn the countries of the Middle East.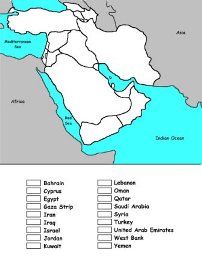 Click to get a larger printable version of map.
Fun Facts about the Middle East:
The Arabian Desert is the world's second largest desert. The largest is the North African desert, the Saharan.

The Dead Sea is the lowest point on earth at 409 meters below sea level.

The Nile River in Egypt is the world's longest river.

The largest city in the Middle East is Cairo, Egypt.

Back to Geography Home Page

TD>
Kid's Poll
Vote for your favorite US President: