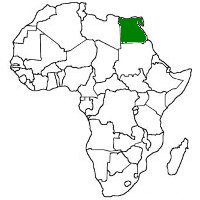 Geography
>>
Africa
>>
Egypt History and Timeline
Egypt
Capital:
Cairo
Population:
83,688,164
The Geography of Egypt
Borders:
Libya
,
Gaza Strip
,
Israel
,
Sudan
, Mediterranean Sea, Red Sea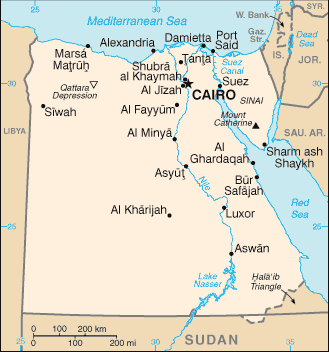 Total Size:
1,001,450 square km
Size Comparison:
slightly more than three times the size of New Mexico
Geographical Coordinates:
27 00 N, 30 00 E
World Region or Continent:
Africa
General Terrain:
vast desert plateau interrupted by Nile valley and delta
Geographical Low Point:
Qattara Depression -133 m
Geographical High Point:
Mount Catherine 2,629 m
Climate:
desert
; hot, dry summers with moderate winters
Major Cities:
CAIRO (capital) 10.902 million; Alexandria 4.387 million (2009), Giza, Shubra_El-Kheima
Major Landforms:
Nile Delta (also known as Lower Egypt), Nile Valley (also known as Upper Egypt), Western (Libyan) Desert, Eastern Desert, Sinai Peninsula, Red Sea Hills, Great Sand Sea
Major Bodies of Water:
Nile River
(the only year round river in Egypt), Aswan Lake (reservoir created by the Aswan Dam), High Dam Lake, Lake Qarun, Gulf of Suez, Gulf of Aqaba, Mediterranean Sea, Red Sea
Famous Places:
Great Pyramids of Giza
,
Sphinx of Giza
,
Valley of the Kings
, Abu Simbel temples, Karnak, Luxor Temples, Aswan High Dam, Cairo Museum, Dendera, Saladin Citadel of Cairo, Step Pyramid of Djoser, Nile River, Suez Canal
Economy of Egypt
Major Industries:
textiles, food processing, tourism, chemicals, pharmaceuticals, hydrocarbons, construction, cement, metals, light manufactures
Agricultural Products:
cotton, rice, corn, wheat, beans, fruits, vegetables; cattle, water buffalo, sheep, goats
Natural Resources:
petroleum, natural gas, iron ore, phosphates, manganese, limestone, gypsum, talc, asbestos, lead, zinc
Major Exports:
crude oil and petroleum products, cotton, textiles, metal products, chemicals
Major Imports:
machinery and equipment, foodstuffs, chemicals, wood products, fuels
Currency:
Egyptian pound (EGP)
National GDP:
$519,000,000,000
Government of Egypt
Type of Government:
Republic
Independence:
28 February 1922 (from UK)
Divisions:
Egypt is divided into 27 governorates or provinces. They are listed below. The largest by population are Cairo, Giza, and Al Sharqia. The largest by size are New Valley, Matrouh, and Red Sea.
Matrouh
Alexandria
Beheira
Kafr el-Sheikh
Dakahlia
Damietta
Port Said
North Sinai
Gharbia

Monufia
Qalyubia
Al Sharqia
Ismailia
Giza
Faiyum
Cairo
Suez
South Sinai

Beni Suef
Minya
New Valley
Asyut
Red Sea
Sohag
Qena
Luxor
Aswan
National Anthem or Song:
Bilady, Bilady, Bilady (My Homeland, My Homeland, My Homeland)
National Symbols:
Bird - Steppe eagle
Flower - Egyptian lotus
National Emblem - The golden eagle of Saladin. It represents power and independence.
Coat of Arms - The golden eagle with a red, black, and white shield holding a scroll that says "Arab Republic of Egypt"
Sport - Soccer
Colors - Red, white, and black
Other symbols - Pyramid, Pharaoh, Sphinx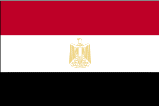 Description of flag:
The flag of Egypt was adopted on October 4, 1984. It has three equally wide horizontal stripes. From top-to-bottom the colors of the stripes are red, white, and black. In the center of the flag is the Eagle of Saladin, the national emblem. The red stripe represents the time before the revolution, the white stripe represents the bloodless revolution, and the black stripe represents the end of oppression.
National Holiday:
Revolution Day, 23 July (1952)
Other Holidays:
Christmas (January 7), National Police Day (January 25), Sham El Nessim, Islamic New Year, Sinai Liberation Day (April 25), Labour Day (May 1), Revolution Day (July 23), Armed Forces Day (October 6), Birthday of the Prophet Muhammad, Eid al-Fitr, Eid al-Adha
The People of Egypt
Languages Spoken:
Arabic (official), English and French widely understood by educated classes
Nationality:
Egyptian(s)
Religions:
Muslim (mostly Sunni) 90%, Coptic 9%, other Christian 1%
Origin of the name Egypt:
The name "Egypt" originally comes from the Greek word for the land "Aigyptos." In Ancient Egypt they called the land the "black land" in reference to the black and fertile soil of the Nile River.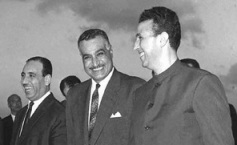 Gamal Abdel Nasser (center)
Famous People:
Yasser Arafat - Leader of the PLO
Cleopatra VII - Last pharaoh of Egypt
Mohamed Al-Fayed - Entrepreneur
Hatshepsut - Powerful female pharaoh
Hosni Mubarak - President from 1981 to 2011
Gamal Abdel Nasser - Revolutionary and President of Egypt
Ramses II - Great pharaoh of Ancient Egypt
Anwar Sadat - President who established peace with Israel
Omar Sharif - Actor
Tutankhamun (King Tut) - Pharaoh with intact tomb of treasure
Ahmed Zewail - Nobel Prize winning chemist
Geography
>>
Africa
>>
Egypt History and Timeline
** Source for population (2012 est.) and GDP (2011 est.) is CIA World Factbook.