Ancient Egypt
Ramses II
History
>>
Biography
>>
Ancient Egypt for Kids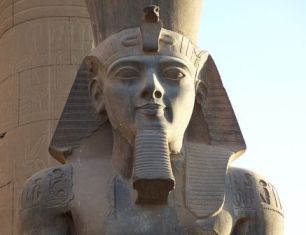 Ramses II Colossus
by Than217
Occupation: Pharaoh of Egypt
Born: 1303 BC
Died: 1213 BC
Reign: 1279 BC to 1213 BC (66 years)
Best known for: The greatest pharaoh of Ancient Egypt
Biography:
Early Life
Ramses II was born around 1303 BC in Ancient Egypt. His father was the Pharaoh Sethi I and his mother Queen Tuya. He was named after his grandfather Ramses I.
Ramses grew up in the royal court of Egypt. He was educated and brought up to be a leader in Egypt. His father became
Pharaoh
when Ramses was around 5 years old. At that time, Ramses had an older brother who was prince of Egypt and in line to become the next Pharaoh. However, his older brother died when Ramses was around 14 years old. Now Ramses II was in line to become Pharaoh of Egypt.
Prince of Egypt
At the age of fifteen, Ramses was the Prince of Egypt. He also got married to his two main wives, Nefertari and Isetnofret. Nefertari would rule along side Ramses and would become powerful in her own right.
As prince, Ramses joined his father in his military campaigns. By the age of 22 he was leading battles by himself.
Becoming Pharaoh
When Ramses was 25 years old his father died. Ramses II was crowned the pharaoh of Egypt in 1279 BC. He was the third pharaoh of the Nineteenth dynasty.
Military Leader
During his reign as pharaoh, Ramses II led the
Egyptian army
against several enemies including the Hittites, Syrians, Libyans, and Nubians. He expanded the Egyptian empire and secured its borders against attackers.
Perhaps the most famous battle during Ramses' rule was the Battle of Kadesh. This battle is the oldest recorded battle in history. In the battle Ramses fought the Hittites near the city of Kadesh. Ramses led his smaller force of 20,000 men against the larger Hittite army of 50,000 men. Although the battle was indecisive (no one really won), Ramses returned home a military hero.
Later, Ramses would establish one of the first major peace treaties in history with the Hittites. This helped to establish a peaceful northern border throughout the rest of Ramses' rule.
Building
Ramses II is also known as a great builder. He rebuilt many of the existing temples in Egypt and built many new structures of his own. Some of his most famous building achievements are described below.
Ramesseum - The Ramesseum is a large temple complex that was located on the west bank of the Nile near the city of Thebes. It was the Mortuary Temple of Ramses II. The temple is famous for its giant statue of Ramses.
Abu Simbel - Ramses had the temples of Abu Simbel built in the Nubian region of southern Egypt. At the entrance to the larger temple there are four huge statues of Ramses sitting down. They are each about 66 feet tall!
Pi-Ramesses - Ramses also built a new capital city of Egypt called Pi-Ramesses. It became a large and powerful city under Ramses rule, but was later abandoned.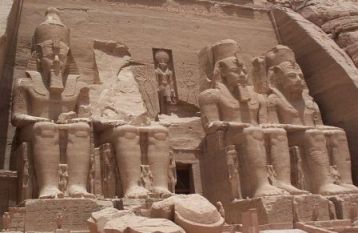 Abu Simbel Temple
by Than217
Death and Tomb
Ramses II died around the age of 90. He was buried in the Valley of the Kings, but his mummy was later moved to keep it hidden from thieves. Today the mummy is in the Egyptian Museum in Cairo.
Interesting Facts about Ramses II
Other names for Ramses include Ramesses II, Ramesses the Great, and Ozymandias.
It is estimated that around 5,000 chariots were used in the Battle of Kadesh.
Some historians think that Ramses was the pharaoh from the Bible who Moses demanded that he free the Israelites.
It is thought that he had nearly 200 children during his long life.
His son Merneptah became pharaoh after he died. Merneptah was his thirteenth son and was around 60 years old when he took the throne.
Activities
Listen to a recorded reading of this page:

Your browser does not support the audio element.
More information on the civilization of Ancient Egypt:
Works Cited
History
>>
Biography
>>
Ancient Egypt for Kids