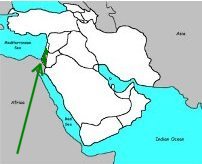 Geography
>>
Middle East
>>
Israel History and Timeline
Israel
Capital:
Jerusalem
Population:
7,590,758
The Geography of Israel
Borders:
Egypt
,
Jordan
,
West Bank
,
Lebanon
,
Syria
,
Gaza Strip
, Mediterranean Sea, Red Sea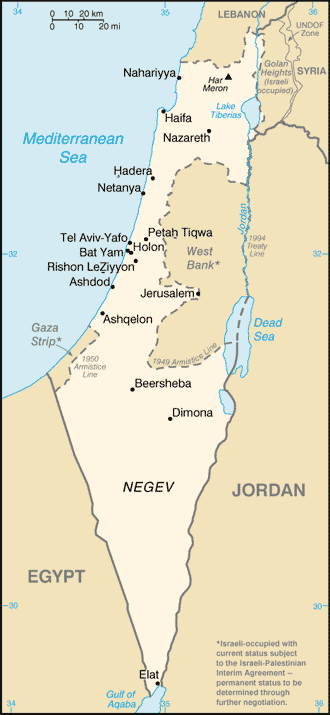 Total Size:
20,770 square km
Size Comparison:
slightly smaller than New Jersey
Geographical Coordinates:
31 30 N, 34 45 E
World Region or Continent:
Middle East
General Terrain:
Negev desert in the south; low coastal plain; central mountains; Jordan Rift Valley
Geographical Low Point:
Dead Sea -408 m
Geographical High Point:
Har Meron 1,208 m
Climate:
temperate; hot and dry in southern and eastern desert areas
Major Cities:
Tel Aviv-Yafo 3.219 million; Haifa 1.027 million; JERUSALEM (capital) 768,000 (2009), Rishon LeZion
Major Landforms:
Negev Desert, Judean Desert, Judean Hills, Israeli Coastal Plain, Mount Carmel, Jezreel Valley, Hula Valley, Galilean Hills, Mount Herman, Mount Meron
Major Bodies of Water:
Jordan River, Dan River, Yarmouk River, Sea of Galilee, Lake Hula, Dead Sea, Red Sea, Mediterranean Sea
Famous Places:
Jerusalem, Masada, Western Wall, Sea of Galilee, Temple Mount, Church of the Holy Sepulchre, Mount of Olives, Tower of David, Gethsemane, Church of the Nativity, Dead Sea, Yad Vashem Holocaust Museum, Caesarea National Park, Dome of the Rock
Economy of Israel
Major Industries:
high-technology projects (including aviation, communications, computer-aided design and manufactures, medical electronics, fiber optics), wood and paper products, potash and phosphates, food, beverages, and tobacco, caustic soda, cement, construction, metals products, chemical products, plastics, diamond cutting, textiles, footwear
Agricultural Products:
citrus, vegetables, cotton; beef, poultry, dairy products
Natural Resources:
timber, potash, copper ore, natural gas, phosphate rock, magnesium bromide, clays, sand
Major Exports:
machinery and equipment, software, cut diamonds, agricultural products, chemicals, textiles and apparel
Major Imports:
raw materials, military equipment, investment goods, rough diamonds, fuels, grain, consumer goods
Currency:
new Israeli shekel (ILS); note - NIS is the currency abbreviation; ILS is the International Organization
National GDP:
$237,000,000,000
Government of Israel
Type of Government:
parliamentary democracy
Independence:
14 May 1948 (from League of Nations mandate under British administration)
Divisions:
The country of Israel is divided into six districts including Northern, Haifa, Center, Tel Aviv, Jerusalem, Southern, and Judea and Samaria. Each district is then further divided into sub-districts. The largest of the districts by population is the Center district. The largest by area is the Southern district.
National Anthem or Song:
Hatikvah (The Hope)
National Symbols:
Animal - Gazelle
Bird - Hoopoe
Tree - Olive tree
Flower - Anemone
Dog - Canaan dog
Colors - Blue and white
Coat of Arms - A shield with a blue background, a Menorah in the center and two olive branches on each side.
Other symbols - Menorah, Star of David

Description of flag:
The flag of Israel was adopted on October 28, 1948. It has a white background (field) with two horizontal blue stripes across the top and the bottom. At the center of the flag is a blue Star of David. The Star of David represents the religion of Judaism and the stripes represent the stripes on a Jewish prayer shawl called a tallit.
National Holiday:
Independence Day, 14 May (1948); note - Israel declared independence on 14 May 1948, but the Jewish calendar is lunar and the holiday may occur in April or May.
Other Holidays:
Rosh Hashanah, Yom Kipper, Sukkot, Simchat Torah, Hanukkah, Fast of Esther, Passover, Independence Day, Feast of Weeks, Purim
The People of Israel
Languages Spoken:
Hebrew (official), Arabic used officially for Arab minority, English most commonly used foreign language
Nationality:
Israeli(s)
Religions:
Jewish 76.4%, Muslim 16%, Arab Christians 1.7%, other Christian 0.4%, Druze 1.6%, unspecified 3.9% (2004)
Origin of the name Israel:
The name "Israel" comes from the patriarch Jacob in the Bible. Jacob was given the name Israel from God after he wrestled with an angel. Jacob had twelve sons who then became the twelve tribes of Israel.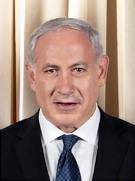 Benjamin Netanyahu
Famous People:
Menachem Begin - Prime minister who signed the Camp David Accords
David Ben-Gurion - Founder and first Prime Minister of Israel
David - King of Israel
Golda Meir - Prime minister
Jesus Christ - Religious leader, Son of God
Moses - Led the Israelites out of Egypt
Benjamin Netanyahu - Politician and prime minister
Itzhak Perlman - Musician and violinist
Natalie Portman - Actress
Bar Rafaeli - Model
Ariel Sharon - Prime minister and military leader
Geography
>>
Middle East
>>
Israel History and Timeline
** Source for population (2012 est.) and GDP (2011 est.) is CIA World Factbook.