Biography
Michael Jordan

Sports >> Basketball >> Biographies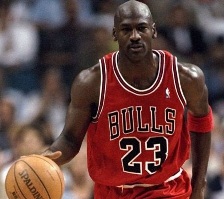 Occupation: Basketball Player
Born: February 17, 1963 in Brooklyn, New York
Nicknames: Air Jordan, His Airness, MJ
Best known for: Widely considered the greatest basketball player of all time
Biography:

Where was Michael born?

Michael Jeffrey Jordan was born in Brooklyn, New York on February 17, 1963. However, his family moved to Wilmington, North Carolina when he was still a young child. Michael grew up and honed his basketball skills at Emsley A. Laney High School in Wilmington where he became a McDonald's All-American by his senior year. Michael also played baseball and football in high school. He grew up with two older sisters, an older brother, and a younger sister.

Where did Michael Jordan go to college?

Michael attended the University of North Carolina at Chapel Hill (UNC). He majored in cultural geography. He played basketball there for three years before going on to the NBA. He would later return and complete his degree. At UNC, Michael Jordan made the winning shot to beat Georgetown in the 1982 NCAA Championship game. This would be the start of many game winning shots for Michael. He was awarded the Naismith Award for the best college player in 1984.

Jordan and the Chicago Bulls

Michael was the 3rd player drafted in the 1984 NBA draft. He went to the Chicago Bulls. He had an immediate impact on the game and was named the NBA Rookie of the Year his first year. At first, Jordan was known as a great player and scorer, but the Bulls weren't very good. Over time, however, the team improved.

In 1991, the Bulls won their first championship. Over the next several years, Jordan would lead the Bulls to six NBA championships. Other important players on the championship Bulls teams included Scottie Pippen, Horace Grant, John Paxson, and Dennis Rodman. These teams were coached by Hall of Fame coach Phil Jackson.

Retirements

Jordan retired from the NBA three different times. The first time was in 1993 to play professional baseball. He retired again in 1999 only to return in 2001 to play for the Washington Wizards. He finally retired for good in 2003.

Was he the best ever?

Michael Jordan is widely considered to be the greatest basketball player in the history of the game. He was known for his all-around great basketball ability including scoring, passing, and defense. He won 6 NBA championships with the Chicago Bulls and won the NBA Finals MVP each time. He also won 5 NBA MVP awards and was consistently on the NBA All-Star Team as well as the all-defense team.

Not only was he one of the best players, but he was one of the most exciting to watch. His ability to jump, dunk, and seemingly change directions in the air was spellbinding. Like all great team sports athletes, Michael Jordan also made his teammates better players.

Pro Baseball Career

Michael Jordan quit basketball for a time to try out baseball. He played minor league baseball for the Chicago White Sox. His performance was mediocre and he never made it to the majors. He later decided to return to basketball.

Dream Team

In 1992, Jordan played on the United States men's Olympic basketball team. This team was the first team to feature NBA players and earned the nickname the "Dream Team." Jordan led a roster full of NBA Hall of Famers including Magic Johnson, Larry Bird, Patrick Ewing, Karl Malone, and Charles Barkley. They won the gold medal, winning every game by more than 30 points.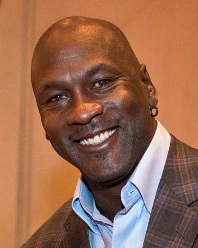 What does Michael Jordan do now?

Today, Michael Jordan is part owner and manager of the NBA's Charlotte Hornets. He is actively involved in charity work and continues to endorse products.

Fun Facts about Michael Jordan
Michael was cut from the varsity team his sophomore year in high school. Boy, did he make a comeback!
Michael was famous for sticking out his tongue when he made moves or dunked.
Jordan was the NBA leader in scoring for 10 seasons.
Michael Jordan starred with Bugs Bunny in the movie Space Jam.
Jordan might be just as famous for his Nike shoe the Air Jordan as for his basketball career.
Other Sports Legend's Biographies:


Sports >> Basketball >> Biographies