Biography
Peyton Manning

Sports >> Football >> Biographies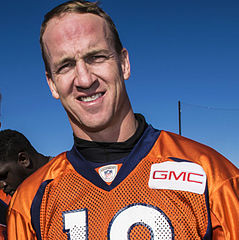 Occupation: Football Player
Born: March 24, 1976 in New Orleans, Louisiana
Nickname: The Sheriff
Best known for: Winning a Super Bowl with the Indianapolis Colts and the Denver Broncos
Biography:

Peyton Manning was one of the best quarterbacks in the history of the National Football League (NFL). He played the first fourteen years of his professional career for the Indianapolis Colts, but in 2012 he went to play for the Denver Broncos after sitting out a year with a neck injury.

Where did Peyton grow up?

Peyton was born on March 24, 1976 in New Orleans, Louisiana. His full name is Peyton Williams Manning. In High School Peyton played quarterback for three years. He also starred on the baseball and basketball teams. His senior year in high school, Manning was named the Gatorade National Player of the Year.

Has Peyton Manning won a Super Bowl?

Yes, Peyton won two Super Bowls. The first was in the 2006 season, when Peyton Manning led the Colts to Super Bowl XLI. They beat the Chicago Bears 29-17. Peyton was awarded the Super Bowl MVP for his outstanding play. The second win was in his last season when he led the Denver Broncos to victory over the Carolina Panthers in Super Bowl 50.

What number did Peyton Manning wear?

Peyton wore number 18 in the NFL. In college he wore the number 16. Tennessee retired his jersey and number in 2005.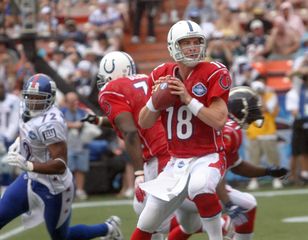 Where did Peyton Manning go to college?

Peyton went to the University of Tennessee. Many people were very surprised at this as his dad, Archie, went to Ole Miss. Peyton, however, wanted to do his own thing and decided on Tennessee. At Tennessee, Manning set the all-time SEC record for career wins with 39 wins. He also became Tennessee's all-time leading passer with 89 touchdowns and 11,201 yards. Peyton was considered one of the NCAA's best players and was drafted the #1 overall pick in the 1998 NFL draft.

Does Peyton have any famous relatives?

Peyton's younger brother, Eli Manning, is also a professional quarterback. He plays for the New York Giants and has also won two Super Bowls. The two brothers played against each other three times during their NFL Careers. These games were often called the "Manning Bowl."

Peyton's father, Archie Manning, was a famous NFL quarterback who played most of his career with the New Orleans Saints. Peyton also has an older brother, Cooper, and his mom's name is Olivia.

Retirement

Peyton Manning retired on March 7, 2016 after the 2016 Super Bowl. He had played in the NFL for 18 seasons.

What NFL records and awards does Peyton hold?

At the time of his retirement, Manning held too many records and awards to list them all here, but we'll list a few of his most impressive:
Most career passing yards ------ 71,940
Most career touchdown passes ------- 539
Most career wins by a quarterback (playoffs and regular season) ----- 200
Most seasons with at least 4,000 passing yards ------ 14
Most games with a perfect passer rating ------ 4
NFL Comeback Player of the Year Award in 2012
Highest career TDs/game average ------ 1.91 TDs/game
2007 Super Bowl MVP
Most completions and most passing yards in a decade
First QB to defeat all of the other 31 teams in the regular season (Tom Brady did this later the same day, and Brett Favre did it the following week)
Fun Facts About Peyton Manning
He hosted the TV show Saturday Night Live for his 31st birthday.
He has his own charity called the PeyBack Foundation which helps disadvantaged kids in Tennessee, Indiana, and Louisiana.
He has a children's hospital named after him called the Peyton Manning Children's Hospital at St. Vincent. It's located in Indianapolis.
Peyton stars in numerous TV commercials and endorses products such as Sony, DirectTV, MasterCard, Sprint, Buick, and ESPN.
Other Sports Legend's Biographies:


Sports >> Football >> Biographies for Kids