Sports
Football: Receivers
Sports
>>
Football
>>
Football Positions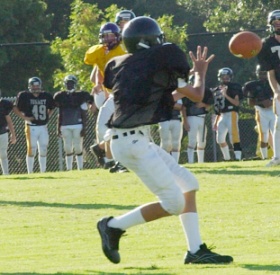 Receivers are offensive players who specialize in catching passes downfield. They are often some of the fastest players on the field. Receivers come in all sizes from small players well under 6' tall to tall big players over 6' 5". The smaller players excel due to quickness, speed, and running precise routes. The larger players are able to out jump smaller defenders and present a big target for quarterbacks.
Skills Needed
Good hands
Speed
Ability to run routes and get open
Types of Receivers
Wide Receiver - The primary receivers on the field are generally the wide receivers (or wide outs). There are usually two wide receivers and they each line up on opposite sides of the field. They are the furthest players from the ball. Wide receiver routes are generally the furthest downfield.
Slot Receiver - The slot receiver lines up between a wide receiver and the offensive line. He usually backs up a few yards from the line of scrimmage. Slot receiver routes are often across the middle of the field.
Tight End - The tight end is a combination player. He plays as blocker on the offensive line as well as a receiver. Sometimes the tight end is one of the top receivers on the team. He is a big player who can block, but also has the speed, agility, and hands to run routes and catch the ball. Tight ends generally run shorter routes in the middle of the field and are covered by slower, bigger linebackers.
Running Routes
In order to be a good receiver, you need to be able to run routes. This means running a specific pattern that both you and the quarterback know. This way the quarterback can throw the ball to a place where he knows you are running. Running a good precise route through the defense takes practice, but is essential to becoming a good receiver.
Catching the Ball
Of course, most importantly, if the ball is thrown to you, you have to catch it. Catching the ball at full speed with defenders around you is different from playing catch in your yard. You need concentration, coordination, and guts. You have to concentrate on the ball and not worry about the defender who is about to hit you. Catch the ball with your hands, not your body, and watch the ball all the way into your hands.
Yards After the Catch
A great receiver can turn a short yardage catch into a long yardage gain. This is where running ability and speed come into play. After the ball is caught, a top receiver will turn and make a move. If he can beat the first defender, he is off to the races.
More Football Links:
Back to Football
Back to Sports