Sports
Football: Kickers
Sports
>>
Football
>>
Football Positions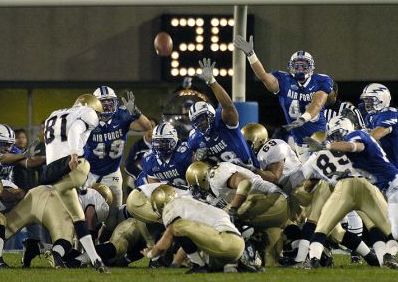 The kickers are members of the special teams in football. They have very specialized skills and roles to play in the game.
Skills Needed
Kicking (few other skills are needed)
Kicking Positions
Place Kicker - The place kicker kicks field goals and kickoffs. In the case of a field goal the place kicker must be accurate and consistent. The ball must go between the uprights of the field goal, but also over the defenders. For kickoffs the kicker must kick the ball as far down the field as possible, preferably far into the end zone to where the ball cannot be returned. Some teams have two place kickers; one who kicks field goals and another who specializes in kickoffs.
Punter - The punter kicks punts. This is generally a different player from the place kicker. The punter tries to kick the ball as far and high as possible. Punters must also have accuracy as sometimes they will be required to kick the ball such that it lands before the end zone or out of bounds inside the 20 yard line. A good punter can help win the field position battle and can make a big difference in certain games.
It's a Fake!
Sometimes the punter or place kicker will be involved in a fake. This is when the team pretends to kick the ball, but then runs a play to try and gain a first down. Sometimes the kicker is directly involved either passing or running the ball. Other times the kicker just needs to pretend to kick the ball in order help fake out the defense.
Onside Kick
Another kicking play is the onside kick. This takes place during the kickoff. Once the kickoff travels 10 yards down the field, it is a free ball for either time. In an onside kick the kicker tries to kick the ball just over 10 yards down the field. The other players on the kickoff team try to recover it.
Long Snapper
During punt formations the ball must be snapped around 20 feet to the punter. This player is often a specialist whose only job is to snap the ball on punt plays.
Tackling
Sometimes the kicker becomes the last line of defense during kick offs and punts. In this case the kicker needs to help tackle. Anything the kicker can do to help, such as turning the runner into other defenders or pushing him out of bounds, may prevent the other team from scoring a touchdown.
More Football Links:
Back to Football
Back to Sports