Sports
Football: Linebacker
Sports
>>
Football
>>
Football Positions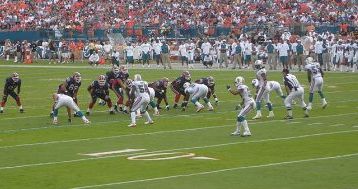 Linebackers play in the middle of the defense between the defensive line and the secondary. They must do a little bit of everything from stopping the run to pass coverage to rushing the passer.
Skills Needed
Tackling
Speed and Size
Intelligence
Leadership
Positions
The linebacker positions depend on the type of defensive formation the team is running. The two main defenses that teams run today are the 3-4 defense and the 4-3 defense.
4-3 Defense
The 4-3 defense has four defensive linemen and three linebackers. The three linebacker positions in the 4-3 are:
Middle Linebacker - The middle linebacker is positioned at the very center of the defense. He is often the leader of the defense calling out the defensive play. His main job is to cover the middle of the field, especially tackling the ball carrier on running plays up the middle. He has the nickname "Mike".
Strong Side Linebacker - The strong side linebacker plays on the side of the field where the tight end lines up. He has the nickname "Sam". He is often a bigger linebacker so he can take on the tight end when necessary.
Weak Side Linebacker - The weak side linebacker plays on the opposite side from the strong side. He must be fast as he often ends up in pass coverage. He has the nickname "Will".
3-4 Defense
The 3-4 defense has three defensive linemen and four linebackers. The linebacker positions in the 3-4 are:
Outside Linebackers - These two linebackers play on opposite sides of the field. They are like small and fast defensive ends. They often rush the passer and cover the edge keeping the running backs from reaching the corner.
Inside Linebackers - These two linebackers cover the middle of the field. They fill in the gaps and make tackles on running backs who make it through the defensive line.
Gap Responsibility
The linebackers work with the defensive line on gap responsibility. The space between each offensive lineman is called a gap. Between the center and the guards are the A gaps and between the guards and the tackles are the B gaps. The linebackers are to fill in the gaps. As the running backs try to get through gaps in the defensive line created by the blockers, the linebackers fill in the gaps and make the tackle.
Defending the Run
The linebackers are the main tacklers and run defenders on the team. The defensive linemen take on the blockers and keep the linebackers free to move and tackle the running backs.
Defending the Pass
On pass plays the responsibilities of the linebackers can vary. On many plays they will be in pass coverage where they cover a tight end or a running back out of the backfield. They also may have zone coverage for their area of the field. On other plays they will blitz and rush the passer.
More Football Links:
Back to Football
Back to Sports