Sports
Football: How to Tackle
Sports
>>
Football
>>
Football Strategy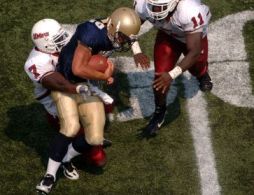 The main job of any defensive player is to tackle. Tackling is the act of taking the ball carrier to the ground.
On TV you will see professional athletes flying around the field hitting each other. One thing you will often hear the announcer say is that many players have lost the art of fundamental tackling. If you want to be a good football player, you need to learn how to tackle correctly. This is often called the "form tackle". It takes practice in order to do it right and to perform it correctly in a game.
Safety
ONLY tackle with the permission and supervision of your coaches and parents.
NEVER tackle or play tackle football without the proper gear including pads and helmets. You or the player you are tackling could be injured. NEVER hit another player on the helmet or head or directly with your helmet. Again, this could cause injury not only to the other player, but to you as well.
The Tackle
Always keep your head up. It is tempting to drop your head, but important to keep your head up and your eye on the target.
Hit the player on the thigh pad with your helmet across the body. This is the ideal place to tackle the defender, right on the thigh pad.
Keep your back straight. Don't bend or arch your back.
Wrap BOTH arms around the player, preferably around their legs. This may be the most important part of tackling. If you don't "wrap up" the ball carrier may just bounce right off you and keep going.
Pull the player sharply towards you with your arms. Don't let them get away from you once you have them.
Lift and drive. As you pull the player towards you lift slightly and then drive towards them with your legs. Use your leverage and power to bring them down.
Practice
If you want to get better at tackling you need to practice. Work on a tackling dummy every chance you get to practice your form and the steps above. Get your coach to watch you and help point out what you can work on.
Also, work on your strength, speed, and endurance. All of these things will help you to tackle during a game, and especially late in the game. If you are out of shape, even the perfect form tackle may not work. You need to be strong and fit to be a good tackler.
More Football Links:
Back to Football
Back to Sports