Sports
Football: Equipment
Sports
>>
Football
>>
Football Rules
The Football
The main piece of equipment for football is the ball. It's a funny oblong spheroid shape. This unique shape helps the ball to travel well when thrown with a spiral and is part of what makes the sport so interesting.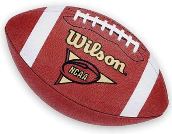 All major levels of play including the NFL, college, and high school use a similar size football. It is around 11 inches long with a circumference of around 21 inches at the width. It weighs between 14 and 15 ounces. Smaller balls are available for younger kids. These can be helpful, especially for learning how to throw the ball at a younger age.
The football has the nickname "pigskin" because it used to be made out of pigs bladders. Today footballs are mostly made from cow leather or synthetic materials.
Helmet
Perhaps the most important piece of equipment is the helmet. Football can be a dangerous sport and all players should wear a helmet at all times. The helmet provides padding and a hard exterior to protect the player's head from injury.
Across the front of the helmet is the face mask. This helps protect the player's face and eyes while letting the player see the field.
Often attached to the helmet is a mouth guard. This is another protective item that should be worn while playing football to protect your teeth.
Pads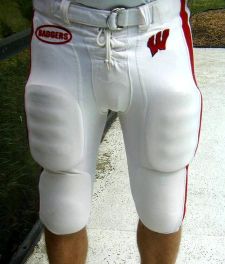 All football players need to wear pads. The thickness and type of pads may vary depending on the position played. Pads and protection that should be worn include shoulder pads, collar pads, hip pads, thigh pads, knee pads, neck rolls, athletic supporter, rib pads, forearm pads, and tailbone pads.
You should work with your parents and coaches to best determine what pads and type of pads you should wear. It can be tempting to avoid certain pads in an attempt to be lighter or more flexible, but you won't be a very good player if you are on the sidelines injured.
Uniform
The football uniform includes the helmet, a jersey, and pants. Sometimes these can be very colorful and many teams change up the colors and styles of uniforms throughout the season.
Numbers
Each player has a number on their jersey to help the fans and officials recognize players. In the NFL certain positions must have a number within a certain range. For example, a quarterback must have a number between 1 and 19. Here is a list of the numbers and positions:
1-9: Quarterback, kicker, punter
10-19: Quarterback, wide receiver, kicker, punter
20-29: Running back, corner back, safety
30-39: Running back, cornerback, safety
40-49: Running back, tight end, cornerback, safety
50-59: Offensive line, defensive line, line backer
60-69: Offensive line, defensive line
70-79: Offensive line, defensive line
80-89: Wide receiver, tight end
90-99: Defensive line, line backer
Cleats
Football players wear cleats for shoes. Linemen often wear high top cleats for the most ankle protection, while wide receivers, quarterbacks, and running backs will wear mid-top cleats for some ankle protection, but more maneuverability.
More Football Links:
Back to Football
Back to Sports