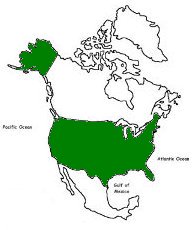 Geography
>>
North America
>>
United States History and Timeline
United States
Capital:
Washington, DC (capital)
Population:
313,847,465
The Geography of United States
Borders:
Canada
,
Mexico
, maritime (water) border with
Russia
, Atlantic Ocean, Pacific Ocean, Arctic Ocean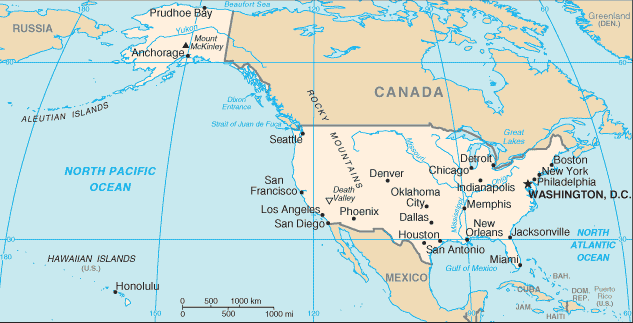 Total Size:
9,631,420 square km
Size Comparison:
about half the size of Russia; about three-tenths the size of Africa; about half the size of South America (or slightly larger than Brazil)
Geographical Coordinates:
38 00 N, 97 00 W
World Region or Continent:
North America
General Terrain:
vast central plain, mountains in west, hills and low mountains in east; rugged mountains and broad river valleys in Alaska; rugged, volcanic topography in Hawaii
Geographical Low Point:
Death Valley -86 m
Geographical High Point:
Mount McKinley 6,194 m
Climate:
mostly temperate, but tropical in Hawaii and Florida, arctic in Alaska, semiarid in the great plains west of the Mississippi River, and arid in the Great Basin of the southwest; low winter temperatures in the northwest are ameliorated occasionally in January and February by warm chinook winds from the eastern slopes of the Rocky Mountains
Major Cities:
New York-Newark 19.3 million; Los Angeles-Long Beach-Santa Ana 12.675 million; Chicago 9.134 million; Miami 5.699 million; WASHINGTON, D.C. (capital)
Major Landforms:
Rocky Mountains, Appalachian Mountains, Sierra Nevada Mountains, Cascade Mountains, Mount McKinley, Great Plains, Mojave Desert, Hawaiian Islands
Major Bodies of Water:
Great Lakes including Superior, Michigan, Erie, Huron, and Ontario. Great Salt Lake, Mississippi River, Missouri River, Yukon River, Rio Grande, Gulf of Mexico, Bering Sea, Atlantic Ocean, Pacific Ocean, Arctic Ocean
Famous Places:
Statue of Liberty
, Times Square in New York City, Yosemite National Park, Yellowstone National Park, Empire State Building, Golden Gate Bridge, The Grand Canyon, Disney World, Hollywood, Washington Mall, Mount Rushmore
Economy of United States
Major Industries:
leading industrial power in the world, highly diversified and technologically advanced; petroleum, steel, motor vehicles, aerospace, telecommunications, chemicals, electronics, food processing, consumer goods, lumber, mining
Agricultural Products:
wheat, corn, other grains, fruits, vegetables, cotton; beef, pork, poultry, dairy products; fish; forest products
Natural Resources:
coal, copper, lead, molybdenum, phosphates, uranium, bauxite, gold, iron, mercury, nickel, potash, silver, tungsten, zinc, petroleum, natural gas, timber
Major Exports:
agricultural products (soybeans, fruit, corn) 9.2%, industrial supplies (organic chemicals) 26.8%, capital goods (transistors, aircraft, motor vehicle parts, computers, telecommunications equipment) 49.0%, consumer goods (automobiles, medicines) 15.0% (2003)
Major Imports:
agricultural products 4.9%, industrial supplies 32.9% (crude oil 8.2%), capital goods 30.4% (computers, telecommunications equipment, motor vehicle parts, office machines, electric power machinery), consumer goods 31.8% (automobiles, clothing, medicines, furniture, toys) (2003)
Currency:
US dollar (USD)
National GDP:
$15,080,000,000,000
Government of United States
Type of Government:
Constitution-based federal republic; strong democratic tradition
Independence:
4 July 1776 (from Great Britain)
Divisions:
The United States is divided into 50 states and 5 major overseas territories. You can go here to learn more about each
state
.
National Anthem or Song:
The Star-Spangled Banner
National Symbols:
Bird - Bald Eagle
Flower - Rose
Tree - Oak tree
Motto - In God We Trust
Colors - Red, white, and blue
Other symbols - Great Seal of the United States, Liberty Bell, Statue of Liberty, Uncle Sam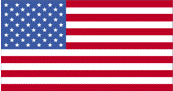 Description of flag:
The current flag of the United States was adopted on July 4, 1960. The original 13-star version was adopted on June 14, 1777. The flag has 13 horizontal red and white stripes. There are seven red stripes and six white. In the upper left corner there is a blue square (field) with 50 five-pointed white stars. The thirteen stripes represent the thirteen original British colonies that formed the country. The 50 stars represent the current 50 states.
Other names for the flag of the United States include Old Glory, the Stars and Stripes, and the Star-Spangled Banner.
National Holiday:
Independence Day, 4 July (1776)
Other Holidays:
New Years' Day (January 1), Martin Luther King, Jr. Birthday, Washington's Birthday, Memorial Day, Independence Day (July 4), Labor Day, Columbus Day, Veterans Day (November 11), Thanksgiving, Christmas (December 25)
The People of United States
Languages Spoken:
English 82.1%, Spanish 10.7%, other Indo-European 3.8%, Asian and Pacific island 2.7%, other 0.7% (2000 census)
Nationality:
American(s)
Religions:
Protestant 52%, Roman Catholic 24%, Mormon 2%, Jewish 1%, Muslim 1%, other 10%, none 10% (2002 est.)
Origin of the name United States:
The name "America" comes from the Italian explorer Amerigo Vespucci. The term the "United States" was officially used in the Declaration of Independence in 1776 and then again in the Articles of Confederation in 1777.
Famous People:
Geography
>>
North America
>>
United States History and Timeline
** Source for population (2012 est.) and GDP (2011 est.) is CIA World Factbook.