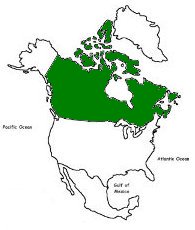 Geography
>>
North America
>>
Canada History and Timeline
Canada
Capital:
Ottawa
Population:
34,300,083
The Geography of Canada
Borders:
United States
(longest shared border in the world of 5,526 miles), maritime borders with
Greenland
and
Saint Pierre and Miquelon
, water borders include the Atlantic Ocean, Pacific Ocean, and the Arctic Ocean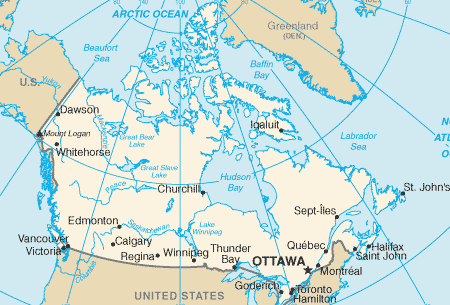 Total Size:
9,984,670 square km
Size Comparison:
somewhat larger than the US
Geographical Coordinates:
60 00 N, 95 00 W
World Region or Continent:
North America
General Terrain:
mostly plains with mountains in west and lowlands in southeast
Geographical Low Point:
Atlantic Ocean 0 m
Geographical High Point:
Mount Logan 5,959 m
Climate:
varies from temperate in south to subarctic and arctic in north
Major Cities:
Toronto 5.377 million; Montreal 3.75 million; Vancouver 2.197 million; OTTAWA (capital) 1.17 million; Calgary 1.16 million (2009)
Major Landforms:
Appalachian Mountains, Canadian Cordillera, Canadian Rockies, Canadian Arctic (north), Interior Plains, Canadian Shield, Vancouver Island, Baffin Island, Newfoundland Island, Victoria Island
Major Bodies of Water:
The Great Lakes including Lake Erie, Lake Ontario, Lake Superior, and Lake Huron. Great Bear Lake, Winnipeg Lake, Mackenzie River, Yukon River, Saint Lawrence River, Nelson River, Hudson Bay, Hudson Strait, Baffin Bay, Gulf of St. Lawrence, Beaufort Sea, Atlantic Ocean, Pacific Ocean, and the Arctic Ocean.
Famous Places:
Niagara Falls
, CN Tower in Toronto, Banff National Park, Stanley Park near Vancouver, Olympic Stadium in Montreal, Toronto Zoo, Butchart Gardens, Fairmont Hot Springs, Old Town in Quebec City, Bay of Fundy, Sleeping Giant, Casa Loma, Parliament Hill in Ottawa

Skyline of Vancouver
Economy of Canada
Major Industries:
transportation equipment, chemicals, processed and unprocessed minerals, food products, wood and paper products, fish products, petroleum and natural gas
Agricultural Products:
wheat, barley, oilseed, tobacco, fruits, vegetables; dairy products; forest products; fish
Natural Resources:
iron ore, nickel, zinc, copper, gold, lead, molybdenum, potash, diamonds, silver, fish, timber, wildlife, coal, petroleum, natural gas, hydropower
Major Exports:
motor vehicles and parts, industrial machinery, aircraft, telecommunications equipment; chemicals, plastics, fertilizers; wood pulp, timber, crude petroleum, natural gas, electricity, aluminum
Major Imports:
machinery and equipment, motor vehicles and parts, crude oil, chemicals, electricity, durable consumer goods
Currency:
Canadian dollar (CAD)
National GDP:
$1,395,000,000,000
Government of Canada
Type of Government:
constitutional monarchy that is also a parliamentary democracy and a federation
Independence:
1 July 1867 (union of British North American colonies); 11 December 1931 (independence recognized)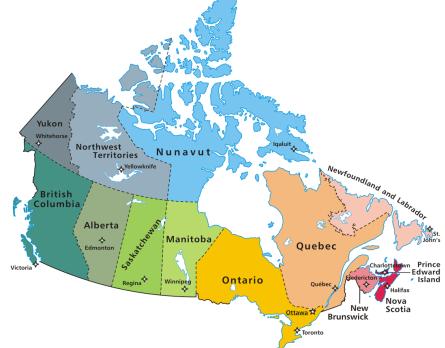 Provinces of Canada
Divisions:
Canada is divided into ten provinces (Ontario, Quebec, British Columbia, Alberta, Manitoba, Saskatchewan, Nova Scotia, New Brunswick, Newfoundland and Labrador, and Prince Edward Island) and three territories (Northwest Territories, Yukon, and Nunavut). The largest by population are Ontario, Quebec, and British Columbia. See the map for the locations and names of each province.
National Anthem or Song:
O Canada
National Symbols:
Animal - Beaver, Canadian horse, moose, polar bear
Tree - Maple Tree
Sports - Ice hockey (winter) and lacrosse (summer)
Colors - Red and white (Canadian pale)
Pattern - Maple leaf tartan
Motto - From sea to sea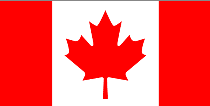 Description of flag:
The Canadian flag was adopted on February 15, 1965. It has three vertical stripes. The outer two are red and the center is white. The white stripe is twice as wide as the red stripes. At the center of the flag is a red maple leaf. There are nine points on the maple leaf, but they have no meaning.
National Holiday:
Canada Day, 1 July (1867)
Other Holidays:
New Years' Day (January 1), Good Friday, Victoria Day, Canada Day (July 1), Labour Day (1st Monday in September), Thanksgiving (2nd Monday in October), Remembrance Day (November 11), Christmas Day (December 25), Boxing Day (December 26)
The People of Canada
Languages Spoken:
English (official) 59.3%, French (official) 23.2%, other 17.5%
Nationality:
Canadian(s)
Religions:
Roman Catholic 42.6%, Protestant 23.3% (including United Church 9.5%, Anglican 6.8%, Baptist 2.4%, Lutheran 2%), other Christian 4.4%, Muslim 1.9%, other and unspecified 11.8%, none 16% (2001 census)
Origin of the name Canada:
The name 'Canada' comes from the Native American Iroquoian word 'kanata' which means 'village.' At first this name just stood for a small village, but later came to refer to a region and the entire country.
Famous People:
Frederick Banting - Discovered insulin
Justin Beiber - Singer
Jim Carrey - Actor
Sidney Crosby - Hockey player
Celine Dion - Singer
Drake - Rapper
Frank Gehry - Architect
Ryan Gosling - Actor
Wayne Gretzky - Hockey player
Peter Jennings - News anchor
Avril Lavigne - Singer
William Shatner - Actor
Alex Trebek - Game show host of Jeopardy
Geography
>>
North America
>>
Canada History and Timeline
** Source for population (2012 est.) and GDP (2011 est.) is CIA World Factbook.