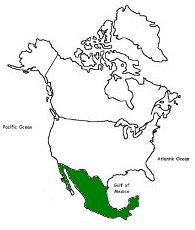 Geography
>>
North America
>>
Mexico History and Timeline
Mexico
Capital:
Mexico City (Distrito Federal)
Population:
114,975,406
The Geography of Mexico
Borders:
United States
(the states of California, Arizona, New Mexico, and Texas),
Belize
,
Guatemala
, Gulf of Mexico, Pacific Ocean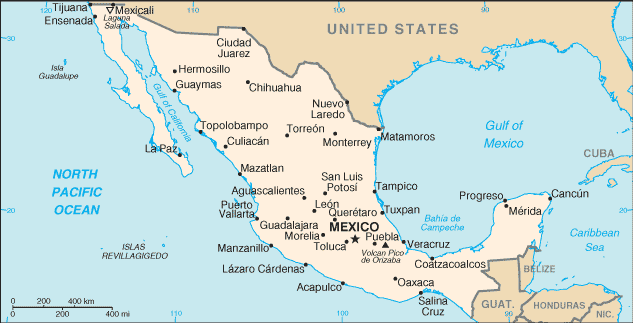 Total Size:
1,972,550 square km
Size Comparison:
slightly less than three times the size of Texas
Geographical Coordinates:
23 00 N, 102 00 W
World Region or Continent:
North America
General Terrain:
high, rugged mountains; low coastal plains; high plateaus; desert
Geographical Low Point:
Laguna Salada -10 m
Geographical High Point:
Volcan Pico de Orizaba 5,700 m
Climate:
varies from tropical to desert
Major Cities:
MEXICO CITY (capital) 19.319 million; Guadalajara 4.338 million; Monterrey 3.838 million; Puebla 2.278 million; Tijuana 1.629 million (2009)
Major Landforms:
Sierra Madre Occidental Mountains, Trans-Mexico Volcano Belt, Sierra Madre Oriental, Sierra Madre del Sur, Mexican Plateau, Baja Peninsula, Yucatan Peninsula, Pico de Orizaba
Major Bodies of Water:
Rio Grande, Grijalva River, Usumacinta River, Culiacan River, Lake Chapala, Lake Texcoco, Gulf of California, Gulf of Mexico, Caribbean Sea, Pacific Ocean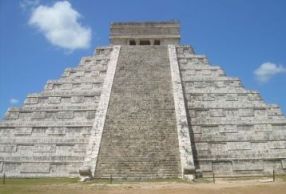 Chichen Itza
Famous Places:
Chichen Itza, Cancun, Cozumel, Puerto Vallarta, Teotihuacan Pyramids, Chapultepec, National Palace, Our Lady of Guadalupe, Acapulco, Riviera Maya, El Arco de Los Cabos, Palenque, Cabo San Lucas
Economy of Mexico
Major Industries:
food and beverages, tobacco, chemicals, iron and steel, petroleum, mining, textiles, clothing, motor vehicles, consumer durables, tourism
Agricultural Products:
corn, wheat, soybeans, rice, beans, cotton, coffee, fruit, tomatoes; beef, poultry, dairy products; wood products
Natural Resources:
petroleum, silver, copper, gold, lead, zinc, natural gas, timber
Major Exports:
manufactured goods, oil and oil products, silver, fruits, vegetables, coffee, cotton
Major Imports:
metalworking machines, steel mill products, agricultural machinery, electrical equipment, car parts for assembly, repair parts for motor vehicles, aircraft, and aircraft parts
Currency:
Mexican peso (MXN)
National GDP:
$1,667,000,000,000
Government of Mexico
Type of Government:
federal republic
Independence:
16 September 1810 (from Spain)
Divisions:
The country of Mexico is divided up into 31 states and one Federal District. The Federal District includes the capital city of Mexico City. The largest states by population are Mexico, the Federal District (Mexico City), Veracruz, and Jalisco. The largest by area are Chihuahua, Sonora, Coahuila, and Durango.
National Anthem or Song:
Himno Nacional Mexicano (National Anthem of Mexico)
National Symbols:
Animal - Jaguar
Bird - Golden eagle
Dog - Mexican hairless dog
Marine mammal - Vaquita
Reptile - Green sea turtle
Arthropod - Grasshopper
Flower - Dahlia
Colors - Green, white, red
Coat of arms - A golden eagle holding a snake while perched on a prickly pear cactus.
Other Symbols - Prickly pear cactus, El Angel, Mariachi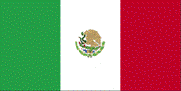 Description of flag:
The flag of Mexico was adopted on September 16, 1968. It consists of three vertical stripes of green (left or hoist side), white (middle), and red (right). The Mexican coat of arms is at the center of the flag. The color green stands for hope and prosperity, white for peace and harmony, and red for the blood of Mexican heroes.
National Holiday:
Independence Day, 16 September (1810)
Other Holidays:
New Years' Day (January 1), Constitution Day (February 5), Benito Juarez's Birthday (March 21), Labor Day (May 1), Cinco de Mayo (May 5), Independence Day (September 15), Revolution Day (November 20), Christmas (December 25)
The People of Mexico
Languages Spoken:
Spanish, various Mayan, Nahuatl, and other regional indigenous languages
Nationality:
Mexican(s)
Religions:
nominally Roman Catholic 89%, Protestant 6%, other 5%
Origin of the name Mexico:
The name "Mexico" comes from a Nahuatl word describing the land where the Aztecs lived. It was on the site of the
Aztec
city
Tenochtitlan
that Mexico City was built by the Spanish.
Famous People:
Felipe Calderon - President of Mexico
Julio Cesar Chavez - Boxer
Porfirio Diaz - President for nearly 30 years
Placido Domingo - Singer
Salma Hayek - Actress
Javier Hernandez (Chicharito) - Soccer player
Miguel Hidalgo - Priest who led the Mexican Revolution
Benito Jaurez - President of Mexico
Frida Kahlo - Painter
Montezuma II - Last Aztec emperor
Anthony Quinn - Actor
Diego Rivera - Painter
Carlos Santana - Guitarist and musician
Fernando Valenzuela - Baseball player
Pancho Villa - Revolutionary war hero
Emiliano Zapata - Leader of the Mexican Revolution
Geography
>>
North America
>>
Mexico History and Timeline
** Source for population (2012 est.) and GDP (2011 est.) is CIA World Factbook.