| | |
| --- | --- |
| South Africa | |
Capital: Pretoria (administrative capital)

Population: 48,810,427

Brief History of South Africa:
South Africa has been inhabited by people for thousands of years. Early on in its history, the Bantu tribes migrated to the area. Many of the people that live in South Africa today speak some form of Bantu language.

The first Europeans to come to South Africa were the Portuguese in 1488. It was many years later, however, in 1652 when the Dutch East India Company established a small settlement at the Cape of Good Hope. Many more Europeans moved in over time including Germans, French, and Dutch settlers. These people became known as the Afrikaners.

In 1849 the National Party was voted into power. They started a policy called apartheid. This was where people were separated based on their race. Particularly white people and black people were separated and the white people ruled the land. In 1961, South Africa became an independent nation.

The African National Congress pushed for the end to apartheid and the equal treatment of black South Africans. Nelson Mandela was a leader of the ANC. He spent 27 years in prison while fighting for equal rights. In 1994 apartheid was abolished and black people were allowed to vote.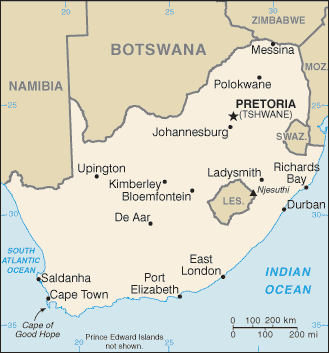 The Geography of South Africa
Total Size: 1,219,912 square km

Size Comparison: slightly less than twice the size of Texas

Geographical Coordinates: 29 00 S, 24 00 E

World Region or Continent: Africa

General Terrain: vast interior plateau rimmed by rugged hills and narrow coastal plain

Geographical Low Point: Atlantic Ocean 0 m

Geographical High Point: Njesuthi 3,408 m

Climate: mostly semiarid; subtropical along east coast; sunny days, cool nights

Major cities: Johannesburg 3.607 million; Cape Town 3.353 million; Ekurhuleni (East Rand) 3.144 million; Durban 2.837 million; PRETORIA (capital) 1.404 million (200


The People of South Africa
Type of Government: republic

Languages Spoken: IsiZulu 23.8%, IsiXhosa 17.6%, Afrikaans 13.3%, Sepedi 9.4%, English 8.2%, Setswana 8.2%, Sesotho 7.9%, Xitsonga 4.4%, other 7.2% (2001 census)

Independence: 31 May 1910 (from UK); note - South Africa became a republic in 1961 following an October 1960 referendum

National Holiday: Freedom Day, 27 April (1994)

Nationality: South African(s)

Religions: Zion Christian 11.1%, Pentecostal/Charismatic 8.2%, Catholic 7.1%, Methodist 6.8%, Dutch Reformed 6.7%, Anglican 3.8%, other Christian 36%, Islam 1.5%, other 2.3%, unspecified 1.4%, none 15.1% (2001 census)

National Symbol: springbok antelope

National Anthem or Song: National Anthem of South Africa


Economy of South Africa
Major Industries: mining (world's largest producer of platinum, gold, chromium), automobile assembly, metalworking, machinery, textiles, iron and steel, chemicals, fertilizer, foodstuffs, commercial ship repair

Agricultural Products: corn, wheat, sugarcane, fruits, vegetables; beef, poultry, mutton, wool, dairy products

Natural Resources: gold, chromium, antimony, coal, iron ore, manganese, nickel, phosphates, tin, uranium, gem diamonds, platinum, copper, vanadium, salt, natural gas

Major Exports: gold, diamonds, platinum, other metals and minerals, machinery and equipment

Major Imports: machinery and equipment, chemicals, petroleum products, scientific instruments, foodstuffs

Currency: rand (ZAR)

National GDP: $555,000,000,000




** Source for population (2012 est.) and GDP (2011 est.) is CIA World Factbook.



Back to Geography Home Page

TD>
Kid's Poll
Vote for your favorite US President: