| | |
| --- | --- |
| Zimbabwe | |
Capital:
Harare
Population:
12,619,600
Brief History of Zimbabwe:
The original inhabitants of Zimbabwe were pushed out by migrating Bantu tribes. The powerful city-state of
Great Zimbabwe
formed around 1200 CE. The interior of Africa, where Zimbabwe is located, was untouched by European influences for years after Europeans arrived on the coastal areas.
In the late 1800s the British became involved in the area and named it Rhodesia. The British annexed Southern Rhodesia in 1923. Southern Rhodesia would become Zimbabwe and Northern Rhodesia would become Zambia. In 1965 the local government declared independence, however, it wasn't until 1980 that the country gained full independence from Britain. Zimbabwe's first prime minister was Robert Mugabe who has ruled the country ever since.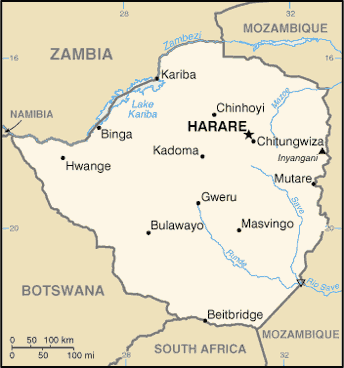 The Geography of Zimbabwe
Total Size:
390,580 square km
Size Comparison:
slightly larger than Montana
Geographical Coordinates:
20 00 S, 30 00 E
World Region or Continent:
Africa
General Terrain:
mostly high plateau with higher central plateau (high veld); mountains in east
Geographical Low Point:
junction of the Runde and Save rivers 162 m
Geographical High Point:
Inyangani 2,592 m
Climate:
tropical; moderated by altitude; rainy season (November to March)
Major cities:
HARARE (capital) 1.606 million (2009)
The People of Zimbabwe
Type of Government:
parliamentary democracy
Languages Spoken:
English (official), Shona, Sindebele (the language of the Ndebele, sometimes called Ndebele), numerous but minor tribal dialects
Independence:
18 April 1980 (from UK)
National Holiday:
Independence Day, 18 April (1980)
Nationality:
Zimbabwean(s)
Religions:
syncretic (part Christian, part indigenous beliefs) 50%, Christian 25%, indigenous beliefs 24%, Muslim and other 1%
National Symbol:
Zimbabwe bird symbol; African fish eagle
National Anthem or Song:
Kalibusiswe Ilizwe leZimbabwe [Northern Ndebele language] Simudzai Mureza WeZimbabwe [Shona] (Blessed Be the Land of Zimbabwe)
Economy of Zimbabwe
Major Industries:
mining (coal, gold, platinum, copper, nickel, tin, clay, numerous metallic and nonmetallic ores), steel; wood products, cement, chemicals, fertilizer, clothing and footwear, foodstuffs, beverages
Agricultural Products:
corn, cotton, tobacco, wheat, coffee, sugarcane, peanuts; sheep, goats, pigs
Natural Resources:
coal, chromium ore, asbestos, gold, nickel, copper, iron ore, vanadium, lithium, tin, platinum group metals
Major Exports:
cotton, tobacco, gold, ferroalloys, textiles/clothing
Major Imports:
machinery and transport equipment, other manufactures, chemicals, fuels
Currency:
Zimbabwean dollar (ZWD)
National GDP:
$6,474,000,000
** Source for population (2012 est.) and GDP (2011 est.) is CIA World Factbook.
Back to Geography Home Page
TD>