New from Ducksters
eBooks!
Read our content on your eReader or mobile device with no ads.
United States Government

Executive Branch - The President
Back to US Government for Kids

Back to History for Kids

The leader of the Executive Branch is the President of the United States. The President holds all the power for this branch of the government and the other members report to the President. Other parts of the Executive branch include the Vice President, the Executive Office of the President, and the Cabinet.

The President

The President is seen as the leader of the US Government and is both the head of state and the Commander-in-Chief of the US armed forces.

One of the main powers of the President is the power to sign legislation from Congress into law or to veto it. A veto means that, even though congress voted for the law, the President does not agree. The legislation can still become a law if two-thirds of both the houses of Congress vote to overturn the veto. This is all part of the balance of powers put into place by the Constitution.

One of the jobs of the President is to enforce and implement the laws set in place by Congress. To do this there are federal agencies and departments that work for the President. The President appoints the heads or leaders of these agencies. Some of these people are also on the President's Cabinet.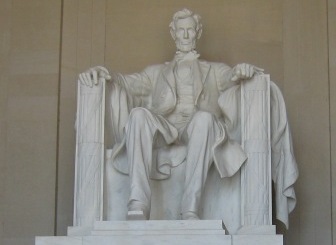 Other responsibilities of the President include diplomacy with other nations, including signing treaties, and the power to grant pardons to criminals of federal crimes.

To further balance power and to keep too much power from any one person, any person is limited to two four-year terms of being President. The President and the First Family live in the White House in Washington DC.

Requirements to Become President

The Constitution states three requirements for a person to become President:

At least 35 years old.
A natural born US Citizen.
Live in the United States for at least 14 years.

Vice President

The main job of the Vice President is to be ready to take over for the President if something should happen to the President. Other jobs include breaking a tie in voting in the Senate and advising the President.

Executive Office of the President

The President has a LOT to do. To help with the many duties of the President, the Executive Office of the President (also called the EOP for short) was created in 1939 by President Franklin D. Roosevelt. The White House Staff heads up the EOP and has many of the President's closest advisors. Some of the EOP positions, like the Office of Management and Budget, are approved by the Senate, other positions are just hired by the President.

The EOP includes the National Security Council, which helps to advise the President on issues such as national security and intelligence. Another part of the EOP is the White House Communications and Press Secretary. The Press Secretary gives briefings on what the President is doing to the press, or media, so that the people of the US can stay informed.

All in all, the EOP helps to keep the Executive Branch running smoothly despite it's wide range of responsibilities.

Cabinet

The Cabinet is an important and powerful part of the Executive Branch. It is made up of the heads of 15 different departments. They all must be approved by the Senate.

Take a ten question quiz at Executive Branch - The President questions page.

To learn more about the Cabinet and it's various departments. click here: US Cabinet for Kids.


More information on the US Government:

Back to US Government for Kids

Back to History for Kids