New from Ducksters
eBooks!
Read our content on your eReader or mobile device with no ads.
United States Government
The US Cabinet

Back to US Government for Kids

Back to History for Kids

The Cabinet is a group of the President's top advisors. It is made up of the heads of the 15 main executive departments. Each of the department heads has the title Secretary, like Secretary of Defense or Secretary of Education, except for the head of the Justice Department who is called the Attorney General.

Cabinet members are chosen by the president and the confirmed by the Senate. The president can also remove cabinet members at any time. The Cabinet members are some of the most powerful people in the United States and each of their departments is important in the running of our country.

The Cabinet has a long history all the way back to the first President, George Washington. President Washington appointed a Cabinet of four people to help and advise him. The first Cabinet included Thomas Jefferson (Secretary of State), Alexander Hamilton (Secretary of the Treasury), Henry Knox (Secretary of War), and Edmund Randolph (Attorney General).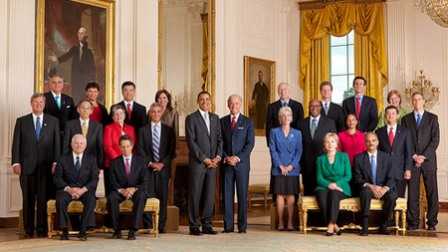 Below is a list of the different departments and a short description of each:

Department of Agriculture

You may know this department by it's shortened name, the USDA. The USDA plays an important role in overseeing farming and our food. They make sure that our food is safe and properly grown and prepared. They also make sure that our land is protected and that farmers can successfully grow food to feed the nation.

Department of Commerce

This department works on promoting the nation's economy. They do this by running programs that help technological innovation, supporting business and industry, and issuing patents and trademarks. The Department of Commerce also assists in international trade agreements and runs our telecommunications and technical policies.

Department of Defense

This department provides the military that defends our country. It includes the Army, Navy, and Air Force. It is headquartered at the Pentagon in Arlington, Virginia. The Department of Defense (DOD) is the government's largest agency.

Department of Education

This Department of Education promotes national education and works to keep America competitive and to make sure that education is available to everyone. The department works closely with the states to place financial aid and help where needed the most.

Department of Energy

The Department of Energy is often called the DOE. The DOE works to advance the national, economic, and energy security of the United States. It helps to find new sources of clean, reliable energy through helping with scientific research and innovation.

Department of Health and Human Services

This department helps to keep Americans healthy. It helps with administering Medicare and Medicaid. Some major agencies report into this department including the Food and Drug Administration (FDA) and the Centers for Disease Control (CDC).

Department of Homeland Security

This is a new department that was formed in 2002 by President George W. Bush after the 9/11 attacks. Its job is to prevent and disrupt terrorist attacks within the United States.

Department of Housing and Urban Development

This department works on national housing needs. It helps poorer families to buy homes. It is often referred to by its initials HUD.

Department of the Interior

This department handles the conservation of our land. It manages our national parks and works to protect our lands, wildlife, and natural resources.

Department of Justice

The job of the Department of Justice is to enforce the law and to protect public safety. It makes sure that criminals are prosecuted and that all Americans get fair justice. Some of the organizations included in this department include the Federal Bureau of Investigation (FBI) and the US Marshals.

Department of Labor

This department is responsible for making sure America has a strong workforce. It works on job training, safe working conditions, minimum wage, discrimination in the workplace, and unemployment insurance.

Department of State

The Department of State handles our relationships with foreign countries. This includes diplomatic relationships with over 180 other countries. The Secretary of State is the President's top foreign advisor.

Department of Transportation

The DOT makes sure that there is fast and safe transportation around the United States. This is important for our economy and quality of life. They manage Federal Highways, and the Federal Aviation Administration (FAA) which makes sure flying is safe.

Department of the Treasury

This department manages the money for the United State financial systems. It not only makes the money, but collects taxes and makes sure that the government has the money to keep running.

Department of Veteran's Affairs

This department administers benefit programs for our veterans. This is to make sure that people who served in battle for the United States are taken care of once they are back home.

Take a ten question quiz at US Cabinet questions page.


More information on the US Government:

Back to US Government for Kids

Back to History for Kids