Biography
Sequoyah
History
>>
Native Americans
>>
Biographies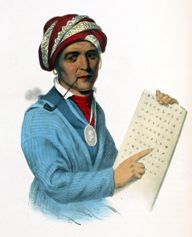 Sequoyah
by Unknown
Occupation: Metalworker and Linguist
Born: c. 1770 near present day Knoxville, Tennessee
Died: August 1843 in San Fernando, Mexico
Best known for: Inventing the Cherokee Syllabary (alphabet)
Biography:
Where did Sequoyah grow up?
Sequoyah grew up as a member of the
Cherokee people
in eastern Tennessee. His father was a white man who Sequoyah never knew. He was raised by his Cherokee mother, Wuteh, who ran a trading post. Growing up, Sequoyah didn't go to school and only spoke Cherokee. He spent his time helping his mother by tending to the garden and working with the livestock.
Becoming a Metalworker
At some point in Sequoyah's life he became lame and couldn't help much with farming or hunting. As a result, he taught himself how to work with metal. He made jewelry out of silver and tools out of iron. He spent much of his adult life working as a metalworker.
Learning About Writing
As a metalworker, Sequoyah spent a fair amount of time working with white people. He learned that they had a way of communicating across distances called writing. They would draw symbols on paper that conveyed messages. Sequoyah decided that he would create a way to write down the Cherokee language. His friends and fellow Cherokee laughed at him and thought this was a silly idea.
How to Write Cherokee
Sequoyah began to draw up a symbol for each word in the Cherokee language. He wrote them down on wooden slats. He spent a year doing nothing but making up new symbols. His neighbors thought he was crazy. Eventually, Sequoyah realized that there were too many symbols. This method of writing wasn't going to work. He tried to think of another way.
A Syllabary
Sequoyah then began to make a symbol for each syllable in the Cherokee language. He created 85 characters that each represented a different syllable. A syllabary is a little different from an alphabet in that the characters typically represent the sound of a consonant followed by a vowel sound. For example, one symbol represented the sound "go" and another the sound "ga."
Convincing Others
When Sequoyah told his fellow Cherokee what he had invented, they did not believe him. He didn't know what to do to convince them, so he taught his young daughter how to read using his new type of writing. He then held a meeting with some Cherokee leaders. With his daughter out of earshot, he asked each of the leaders to say a word which he wrote down. Then he had his daughter come into the meeting and read the words. The leaders were amazed.
Sequoyah continued to tell people about his writing. He began to teach adults how to read and write. Soon people all across the Cherokee nation were learning his new letters. They began to publish newspapers and books.
Later Life and Death
Sequoyah spent most of his later life in Arkansas and Oklahoma where he worked as a blacksmith and taught people his syllabary. He also dreamed of seeing the reunification of the Cherokee Nation which had scattered across much of the country. He even traveled to Washington D.C. to negotiate a treaty regarding Indian Territory.
In 1843, Sequoyah died while traveling to meet up with some Cherokee bands in Mexico. The exact circumstances of his death are unknown.
Interesting Facts about Sequoyah
His English name was George Guess or George Gist.
He called the paper that white men used to communicate "talking leaves."
The Cherokee people awarded him with a silver medal for inventing the syllabary.
There is a statue of Sequoyah in the U.S. Capitol in Washington, D.C.
The cabin in Oklahoma where he lived later in life is now a U.S. National Historic Landmark.
For more Native American history:
Works Cited
History
>>
Native Americans
>>
Biographies