Native Americans
Seminole Tribe
History
>>
Native Americans for Kids
The people of the Seminole tribe were Native Americans who originally lived in northern
Florida
. They retreated to southern Florida when American settlers moved into their territory. Today, they live in Florida and Oklahoma.
History
The Seminole tribe was formed out of people from several other tribes in the 1700s. The main people were the southern Creek who left Georgia to find safer lands. People from other tribes joined them and they became known as the Seminole tribe.
Seminole Wars
The Seminole people fought to keep their land from the United States in a series of wars called the Seminole Wars. The First Seminole War took place when
Andrew Jackson
and 3,000 soldiers invaded northern Florida in 1817. They captured runaway slaves living in North Florida and ended up taking much of East Florida under control for the United States.
The Second Seminole war took place from 1835 to 1842. During this time many Seminole leaders resisted a forced move to reservations in Oklahoma by the United States government. A small band of warriors under the leadership of Osceola fought back for many years. Although many Seminoles were forced to move to Oklahoma, a few held out in the deep swamps of Florida.
The Third Seminole war lasted from 1855 to 1858. The Seminole Indians were led by Billy Bowlegs. Eventually Billy Bowlegs was captured and relocated out of Florida.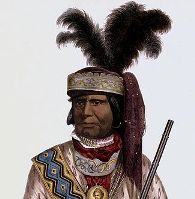 Billy Bowlegs
by Thomas Loraine McKenney
What kind of homes did they live in?
The Seminole people originally lived in log cabins in North Florida, but when they were forced to move to the swampy lands of Southern Florida they lived in homes called chickees. A chickee had a raised floor, a thatched roof supported by wooden posts, and open sides. The raised floor and roof helped to keep the Indians dry, but the open sides helped to keep them cool in the hot weather.
What languages did they speak?
The Seminole spoke two different languages: Creek and Mikasuki.
What was their clothing like?
Women wore long skirts and short blouses. They also wore several strings of glass beads. They received their first string of beads as a baby and never took them off. They added more strings of beads as they got older.
Men wore long shirts with a belt and a turban on their heads. Most of the time the people went barefoot, but they would sometimes wear moccasins during cold weather.
Clans
The Seminole people are divided into smaller groups called clans. This is an extension of the traditional family unit. When two people got married, the man would go to live with his new wife's clan. There are eight Seminole clans including Deer, Bear, Panther, Snake, Otter, Bird, Bigtown, and Wind.
Seminole canoes
Because of all the water in Florida, the main form of transportation for the Seminole Indians was the canoe. They made dugout canoes by hollowing out the logs of cypress trees.
Famous Seminole Indians
Osceola - Osceola was a great leader of the Seminole during the Second Seminole War. He wasn't a chief, but was a great speaker and warrior who many people followed. He was captured under a white "flag of truce" in 1837, but refused to sign a treaty giving up his people's land. He died a year later in prison. Osceola became a symbol of freedom that the Seminole people looked to for years to come.



Abiaka -Abiaka was a medicine man and spiritual leader of the Seminole Indians during the Second Seminole War. He refused to leave Florida and held out against all odds, never surrendering or accepting compromise.



Billy Bowlegs - Billy Bowlegs was a leader of a tribe located near Tampa Bay. He refused to leave Florida when many other leaders were signing away their land and relocating to Oklahoma. He was the leader of the Seminole Indians during the Third Seminole War.
Interesting Facts about the Seminole Tribe
Escaped slaves from some southern states also joined the Seminole tribe.
"Chickee" is the Seminole word for house.
Many places, rivers, and cities in Florida get their names from Seminole words including Chattahoochee (marked stones), Hialeah (prairie), Ocala (spring), and Okeechobee (big water).
Women made baskets from palmetto leaves, pine needles, and sweet grass. Today, the Seminole still make sweet grass baskets which they sell as souvenirs.
Each spring the Seminole hold a traditional ritual called the Green Corn Dance. This is the most important ceremony of the year.
Go here to read more about the
history of Florida
.
Activities
Take a ten question quiz about this page.


Listen to a recorded reading of this page:

Your browser does not support the audio element.
For more Native American History:
Works Cited
History
>>
Native Americans for Kids