Biography
Puyi (The Last Emperor)
History
>>
Biography
>>
Ancient China
Occupation: Emperor of China
Born: February 7, 1906 in Beijing, China
Died: October 17, 1967 in Beijing, China
Reign: December 2, 1908 to February 12, 1912 and July 1, 1917 to July 12, 1917
Best known for: He was the last emperor of China
Biography:
Puyi was born into the Chinese royal family on February 7,1906. His father was Prince Chun and his mother Princess Youlan. Puyi grew up in the imperial palace and knew little of the world outside.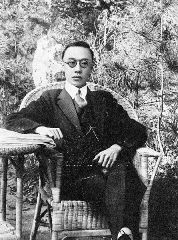 Puyi by unknown photographer
[Public Domain]
Child Emperor
Young Puyi didn't know what was going on when he was crowned the emperor of China at the age of two years old. He cried through much of the ceremony. During the four years that Puyi was emperor, he didn't really rule China, but had a regent who ruled for him. He was treated like an emperor, however. The servants bowed down before him wherever he went and obeyed his every command.
Revolution
In 1911, the people of China revolted against the Qing Dynasty. The Republic of China took over as the government of China. In 1912, Puyi was forced to give up his throne (also called "abdicate his throne") and no longer had any power. The government allowed him to keep his title and to live in the Forbidden Palace, but he had no official role in the government.
Emperor Again
For a short period of time in 1917, Puyi was restored to the throne by the Chinese warlord Zhang Xun. He only ruled for twelve days (July 1 to July 12), however, as the republican government quickly took back control.
Out of the Forbidden City
Puyi continued to live a quiet life in the Forbidden City for many years. In 1924, everything changed when the Republic of China formally took away his title as emperor. They also forced him to leave the Forbidden City. Puyi was now just a regular citizen of China.
Ruler of Manchukuo
Puyi went to live in the Japanese controlled city of Tianjin. He struck up a deal to become the leader of the country of Manchukuo in 1932. Manchukuo was a region in Northern China controlled by Japan. Puyi had little power and was mostly a figurehead for the Japanese.
World War II
When the Japanese lost World War II in 1945, Puyi was captured by the Soviet Union. They held him captive until 1949, when he was sent back to Communist China. Puyi spent the next 10 years in prison being reeducated in the ways of communism.
Becoming a Citizen
In 1959, Puyi became a regular citizen of the
People's Republic of China
. He first went to work as a gardener and then as a literary researcher. He also wrote an autobiography of his life called
From Emperor to Citizen
.
Death
Puyi died in 1967 from kidney cancer.
Interesting facts about Puyi (The Last Emperor)
His great-grandfather was the Xianfeng Emperor who ruled from 1850 to 1861.
The movie The Last Emperor tells the story of Puyi's life. It won nine Academy Awards including Best Picture.
His official title was the Xuantong Emperor.
He had five wives, but no children.
He sometimes went by the western name "Henry."
For more information on the civilization of Ancient China:
Works Cited
History
>>
Biography
>>
Ancient China