Ancient China
Emperor Qin Shi Huang
History for Kids
>>
Biography
>>
Ancient China
Occupation: Emperor of China
Reign: 221 BC to 210 BC
Born: 259 BC
Died: 210 BC
Best known for: First Emperor of China, established the Qin Dynasty
Biography:
Early Life
Prince Zheng was born in 259 BC. His father was king of the Qin state. At the time Zheng was born, China was divided up into 7 major states. These states fought each other all the time. Historians call this time in Chinese history the Warring States period.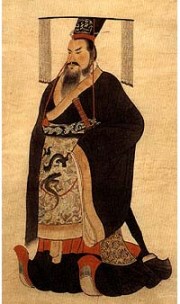 Qin Shi Huangdi
by Unknown
Growing up as a prince, Zheng was well educated. He learned about China's history and also about war. He would someday rule the Qin and would lead his warriors into battle against the other states.
Becoming King
When Zheng was just thirteen years old his father died. Zheng was now king at a very young age. For the first several years, a regent helped him to rule the land, but by the time he was 22, King Zheng took full control. He was very ambitious. He wanted to conquer the other Chinese states and unite China under one rule.
Uniting China and Becoming Emperor
Once he had complete control of the state of Qin, King Zheng set out to conquer the other six Chinese states. He took them on one by one. The first state he conquered was the Han state. Then he quickly conquered the Zhao and the Wei. Next he took on the powerful Chu state. Once the Chu state was defeated the remaining Yan and Qi states fell easily.
Now King Zheng was leader of all of China. He declared himself emperor and changed his name to Shi Huang, which meant "first emperor".
Organizing the Empire
Qin Shi Huang did much to organize his new empire. He wanted it to run smoothly for thousands of years. He established reforms in many areas including:
Government - Emperor Qin did not want the conquered states to think of themselves as independent nations. He divided the country into administrative units. There were 36 "commanderies" which were further divided into districts and counties. He also declared that government positions would be appointed according to people's abilities.
Economy - Emperor Qin also unified China by establishing a common currency (money) and standard units of measure. With everyone using the same money and measurements, the economy ran much smoother.
Writing - Another important reform was a standard way of writing. There were many ways of writing in China at the time. Under Emperor Qin, everyone was required to teach and use the same type of writing.
Construction - Emperor Qin made a number of improvements to the infrastructure of China. He had a vast network of roads and canals built throughout the country. This helped to improve trade and travel. He also began the building of the Great Wall of China. He had many of the existing walls throughout the country connected to form a long wall that would protect China from the invaders to the north.
A Tyrant
Although Emperor Qin was a skilled leader, he also was a tyrant. He outlawed most forms of religion requiring people to be loyal and obedient only to the government. He also ordered that most of the existing books be burned. He wanted history to begin with his rule and the Qin dynasty. Those scholars who did not bring their books to be burned were killed.
Building a Tomb
Today Qin Shi Huang may be most famous for his tomb. He had over 700,000 workers constructing his tomb throughout his life. They built a vast terracotta army of 8,000 soldiers, horses, and chariots that he thought would protect him in the afterlife. Go here to learn more about the
terracotta army
.
Death
Qin Shi Huang died while traveling on a tour of Eastern China in 210 BC. His second son, Huhai, was on the trip with him. He wanted to become emperor, so he hid his father's death and forged a letter from his father to his older brother telling him to commit suicide. After his brother killed himself, Huhai became emperor.
Interesting Facts about Emperor Qin
He was obsessed with trying to live forever. He had his best scientists work on finding an elixir of immortality that would enable him to never die.
Emperor Qin had thought his family would rule China for thousands of years. However, the empire collapsed only three years after his death.
Some documents indicate that he was the son of a lowly merchant and not the son of the King of Qin.
When he first became King of Qin, there were many assassination attempts on his life. Perhaps this is what made him so obsessed with living forever.
For more information on the civilization of Ancient China:
Works Cited
History
>>
Biography
>>
Ancient China