Ancient Egypt
Government
History
>>
Ancient Egypt
The Ancient Egyptian Government was ruled first and foremost by the Pharaoh. The Pharaoh was the supreme leader not only of the government, but also of the religion. However, the Pharaoh couldn't run the government all by himself, so he had a hierarchy of rulers and leaders below him who ran different aspects of the government.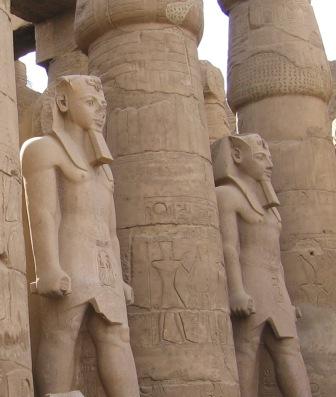 Vizier
The Primary leader of the Government under the Pharaoh was the Vizier. The vizier was the Chief Overseer of the land, sort of like a Prime Minister. All the other officials reported into the vizier. Perhaps the most famous vizier was the first one, Imhotep. Imhotep architected the first pyramid and was later made into a god.
The Egyptian law stated that the vizier was to 1) act by the law 2) judge fairly and 3) not act willfully or headstrong.
Nomarks
Under the vizier were local governors called Nomarks. Nomarks ruled over an area of land called a nome. A nome was like a state or province. Nomarks were sometimes appointed by the Pharaoh, while at other times the position of nomark would be hereditary and handed down from father to son.
Other Officials
Other officials that reported into Pharaoh were the army commander, the chief treasurer, and the minister of public works. These officials each had different responsibilities and powers, but Pharaoh had the final say. Many of the Pharaoh's officials were priests and scribes.
Scribes were important to the government as they kept track of the finances and recorded taxes and the census. Overseers of the land were also appointed to keep track of the farmers and to make sure they were doing their jobs.
Monarchy
The average person had no say in the government. However, because Pharaoh was considered a god, and the people's representative to the gods, they often accepted the Pharaoh as their supreme leader without complaint.
Fun Facts about the Ancient Egyptian Government
The wives of the Pharaohs were the second most powerful people in the land after the Pharaohs.
Citizens had to pay taxes to support the government.
In the New Kingdom, court cases were ruled by a local council of elders called a Kenbet.
Pharaohs would hold court for his top officials and high priests. People would approach him and kiss the ground at his feet.
They did not have a complicated set of laws and statutes. In many cases the judges were to rule using common sense in an effort to come to an agreement.
Activities
Take a ten question quiz about this page.


Listen to a recorded reading of this page:

Your browser does not support the audio element.
More information on the civilization of Ancient Egypt:
Works Cited
History
>>
Ancient Egypt